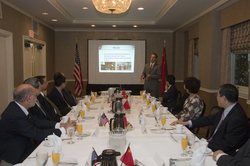 In a nutshell, RP-RM allows inventors and entrepreneurs to design new products using computer aided design software readily available for personal computers
Springville, UT (PRWEB) September 24, 2007
Hark all ye entrepreneurs, inventors and fellow planetary disrupters. Now you can have the firepower of Boeing, the R&D of Xerox and the design capabilities of Apple, all on a budget that even a Manhattan cab driver can handle, according to US Reliant, itself an unabashed disruptive force in business and technology.
Indeed, the magic of fractional ownership of rapid-prototyping equipment is that it allows the little guy (or gal) to enjoy the full benefits of ownership of leading-edge technology, without the full price of ownership.
The potential, notes US Reliant, is unlimited and - get this - so far the competitive field is sparsely populated.
Rapid-prototyping and rapid-manufacturing (RP-RM) technology is two decades old. But it has largely been used in unimaginative and conventional ways. Moreover, the only companies that could really afford to own the technology were giants such as Boeing, Xerox and Apple.
"The industry is crying out for fresh blood and creativity, and now, the same entrepreneurial spirit that propelled the Internet boom is poised to (finally) launch the RP-RM industry into the stratosphere," says David A. McInnis, founder and CEO of US Reliant.
That is because with an investment of under $10,000, innovators can now own - not rent or use - a share of state-of-the-art RP-RM equipment. "It's yours to experiment with, test, create and profit from," says McInnis.
And these are no toy or self-assembled RP-RM machines. In fact, in some cases, they are more modern and more powerful than those currently in use by many well-known Fortune 500 companies.
The disruptive force behind this new fractional ownership model is Tangible Express, a unit of US Reliant, which has applied the long-proven aircraft fractional ownership concept to the emerging fields of RP-RM.
Among the earliest creative pioneers using RP-RM have been medical device makers and toy manufacturers. But they haven't even begun to scratch the surface of potential uses.
"In a nutshell, RP-RM allows inventors and entrepreneurs to design new products using computer aided design software readily available for personal computers," explains C. Alex Linde, president and COO of Tangible Express. "Then, without the high costs and delays required for conventional molds, RP-RM can 'print' actual 3d prototypes within hours."
In fact, dentists, hearing aid companies and some toymakers are already using the machines to make final versions of successful, customized short-run products.
"What the industry needs now are all the folks around the world who've got great ideas, but until now haven't had the means to bring them to fruition," McInnis says. "With fractional ownership of RP-RM equipment, you can have the idea in the morning, manufacture it in the afternoon, and begin showing it to potential investors or customers the next day."
US Reliant offers a wide range of informational articles on RP-RM and fractional manufacturing at its web site, http://www.usreliant.com/blog . Those interested may also visit the Tangible Express web site, http://www.tangibleexpress.com , which provides specific details on how everyone can own a own share of the future.
###