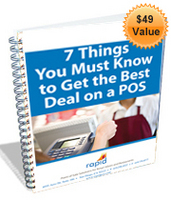 San Diego retailers who use our POS system will be sending targeted messages based upon a customer's previous buying habits - Bart McCleskey
San Diego, CA (PRWEB) March 29, 2011
Rapid POS recently released a Customer Connect feature for their POS software. Customer Connect will help San Diego retail companies make their marketing targeted, effective, and easy to do. This feature is integrated into their CounterPoint POS software and is designed to allow retailers to mine their customer and sales data so that the retailer may produce extremely targeted e-mail campaigns.
Customer Connect is simple, fast, and includes a step by step wizard which makes it easy to design html emails. Using a customer e-mail marketing tool that is built into the POS means that there is only one place where customer information is maintained. San Diego retailers save time and never misplace customers' information. To get more details visit our website http://www.rapidpos.com.
This newly added Point of Sale feature will increase open rates of emails sent out, build awareness of your San Diego retail company, strengthen loyalty among your customers, and overall increase your sales. "The most significant benefit is that our San Diego POS clients will be able to use their sales data to laser target their e-mail marketing campaign. Gone are the days of generic e-mail blasts that are sent to all customers. San Diego retailers who use our POS system will be sending targeted messages based upon a customer's previous buying habits," says Bart McCleskey, President of Rapid POS. In an industry study, retail companies were found to generate about $43.00 for every $1.00 they spend on email marketing.
McCleskey goes on to mention some of the main benefits of the new Customer Connect POS software for San Diego retailers:

Email marketing is made easy by being able to target your customers based on shopping history, purchase preferences, customer location, etc. Segmented email lists will increase effectiveness of your marketing and profitability of promotions.
Create recurring email campaigns, two campaigns are already preloaded the "welcome" and "we miss you" emails.
Track results of email campaigns through charts and graphs which show the sales that each campaign is generating. San Diego retail companies will be able to view information such as how many emails were sent, opened, how many customers have made purchases, or used a coupon sent in the email.
Templates for emails in Customer Connect are available and designed specifically for retailers. San Diego retailers can choose from different themes, adjust details, test emails, and schedule dates to send out emails.
According to Archie Palencia, Rapid POS director of sales, "we sought to make the features as affordable as possible. There are no contracts, not setup fees, a 30-day free trial, and monthly plans are based on active subscribers rather than number of email sent."
Adding Customer Connect to Rapid POS' CounterPoint software will increase your retail company's sales by staying in touch with customers, strengthening loyalty, generating repeat and new referral business, and connecting with new customers as well as those who have not shopped recently.
About Rapid POS
Rapid POS is a leading Point of Sale system provider for small and medium sized restaurant and retail businesses. In addition to multiple software solutions, they offer configuration, customization, installation, training and support services and have particular focus on serving businesses in San Diego, Los Angeles, and Orange Counties. To learn about other capabilities of the Point of Sale system from Rapid POS please visit http://www.rapidpos.com
###