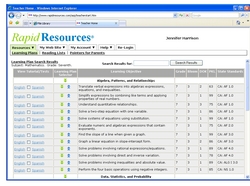 We have about 30 students enter middle school every year who have not attended school on a regular basis and they are well behind their peers
Florence, KY (PRWEB) June 30, 2008
Middle school is considered a transitional period for students as they adjust from the single-teacher environment of elementary school to a middle school day filled with multiple teachers and subjects. Most students adjust quickly and make the transition to high school without difficulty. For some, however, the shift is tricky and there are always a few middle schoolers who require deft handling. At Boone County Schools in Kentucky, they found a helpful learning tool to make the transition a little bit easier.
In the 2007/08 school year, Boone County acquired Rapid Resources (http://www.rapidresources.com) as an individualized learning tool for its middle school students who were below grade level by a substantial amount. The district agreed to pilot Rapid Resources for this particular population so they could move the students on to high school and get them back on track with their peers.
"We have about 30 students enter middle school every year who have not attended school on a regular basis and they are well behind their peers," said Randy Poe, Boone County Schools Superintendent. "These students have a difficult time in middle school because they are behind and they are usually a few years older than the typical seventh and eighth grader."
Rapid Resources offered the exact solution Boone County needed. Rapid Resources is used by teachers to create individualized learning plans from a database of 500 learning activities that are correlated to state standards. Each of these activities is tied together like the rungs of ladder, building upon each other as concepts become more complex. Using a quick assessment question tied to those skills, a teacher can then determine which "building block skill" a student is missing, click on a button and instantly receive customized lessons and activities for that particular student.
"The power of Rapid Resources became immediately apparent to us on the very first day," said Poe. "We had teachers sit with a student and in ten minutes, they had customized activities for that student to work on. They printed them out, set the student to work and also sent their learning plan home for homework."
The district was very pleased at the end of the school year when 14 of the 30 students successfully exited out of middle school in one year. "A process that normally takes two or three years for a student to complete, was finished in less than nine months," said Poe. "We have never had such success in such a short time period."
Poe and his team of teachers believe students were successful because Rapid Resources helped them drill down to the exact foundational skills each student was missing. Once they printed out the Rapid Resources learning plans, each student had the lessons and support materials they needed to learn those particular skills and then start building for the next ones.
Rapid Resources, dubbed the "Teacher's Tool" is currently in use throughout the country in elementary, middle and high schools for individualized help with math, language arts, reading and science. Teachers use Rapid Resources to develop accelerated learning plans or for remediation in specific areas, similar to how Boone County is using the program. Rapid Resources 2.0 will be released this summer and will include additional open-ended assessments and enhanced correlation tools.
About Rapid Resources:
Rapid Resources® (http://www.rapidresources.com) is a Web-based resource that creates individualized learning plans with teacher-created, standards-based activities that are easily implemented in class or at home. Rapid Resources includes a simple assessment tool to determine if a student needs remediation exercises or accelerated learning exercises in specific skill areas for mathematics, language arts, reading or science. Rapid Resources was created by the International Learning Corporation, which develops learning products that fill gaps and put the power of teaching into the hands of classroom educators. Call (866) 343-5189 for more information.
About International Learning Corporation:
International Learning Corporation (http://www.InternationalLearningCorporation.com), based in Stuart, Fla. creates software and content for students to achieve academic success. In addition to Rapid Resources, International Learning Corporation also developed The Parent Tutor (http://www.parenttutor.com).
###