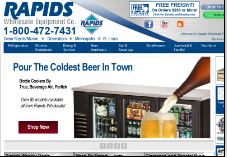 Marion, Iowa (PRWEB) February 14, 2013
Rapids Wholesale Equipment Company, a leading food service equipment and supplies company, recently launched a new website to better serve its users. The revamp of the site revolved around providing patrons a better user experience as they look to fulfill their food service equipment and supply needs.
Changes to the Rapids Wholesale website include an improved layout for easier page navigation and a more efficient search function for the Rapids Wholesale webpage. Rapids Wholesale's content has also been freshened and expanded to include buying tips and product comparisons, raising the chances industry professionals will find the foodservice and bar supplies for which they are looking.
The Rapids Wholesale staff has also taken a closer look at existing product descriptions to make sure they provide users as much information as possible so that they are able to make the most informed decision when it comes to both small and major purchasing decisions.
And of course, Rapids Wholesale representatives are always happy to answer any additional questions a customer might have. The site even futures a live chat option during business hours if one prefers to converse via instant messaging. This allows a user to ask questions and receive answers while he or she surfs the site.
Another content update for the new site was the addition of a Rapids Wholesale blog featuring tips, techniques and editorials that provide valuable industry information for managers, owners, operators and other professionals in the foodservice industry. This is also where the Rapids Wholesale e-newsletter is housed.
The Rapids Wholesale website also features an Education Station that those in the foodservice industry can also use to expand their knowledge of the industry. On this section of the site, they can take part in a variety of introductory series, such as Kitchen Ventilation Basics, Beer System and Hardware Basics and Walk-in Refrigeration Basics.
Here, users can also find handy check-off lists for launching a variety of restaurant types and a Frequently Asked Question section—the Rapids Beer Systems Guide—that can help one expand his or her knowledge of beer and beer equipment as it pertains to the foodservice industry.
The launch of the new site also coincided with an increased presence on social media avenues for the company. On the Rapids Wholesale Equipment YouTube channel, one can find a variety of informational videos providing tips and guidance regarding industry-relevant topics such as cleaning refrigeration cabinets, media coverage of products making headlines and more.
Those looking for a feel of the Rapids Wholesale Equipment atmosphere or for a portfolio illustrating company projects can also check out Rapid Wholesale's Facebook page. Here, one can find updates on day-to-day company activities, learn how Rapids is giving back to the community and get an insider look at company personnel and facilities. This page also provides another means of asking questions about company products and facilities and even spurring discussions.
About Rapids Wholesale Equipment Company
Since 1936 Rapids Wholesale Equipment has been a leading supplier of restaurant, bar, and catering supplies and equipment. Rapids features top brands such as: True, Beverage Air, Libbey, Frymaster/Dean, Hobart and many more. Rapids Wholesale offers the best commercial kitchen equipment in the foodservice industry at competitive prices. At http://www.RapidsWholesale.com, one can find everything from long draw beer systems to bottle coolers. The company also offers kitchen layout and design services in addition to equipment procurement and managed installations. From plates, knives and forks to the tables they rest on, Rapids' warehouse is ready to ship at a moment's notice. Delivery is fast and its prices are fair.