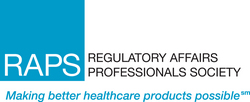 Rockville, MD (Vocus) May 13, 2010
The Regulatory Affairs Professionals Society (RAPS) currently is seeking candidates for its annual awards honoring outstanding regulatory professionals in the healthcare products sector and for the 2010 class of RAPS Fellows. RAPS Awards are given in five categories celebrating a range of accomplishments within the regulatory profession. The RAPS Fellows distinction is reserved for senior-level regulatory professionals who demonstrate dedication to, and leadership in, the advancement of the profession. Awards nominations are submitted by professional colleagues, while Fellows candidates must apply. Both awards nominations and Fellows applications are due 31 May, 2010.
The award recipients and Fellows will be honored during the 2010 RAPS Annual Conference & Exhibition, 24–27 October, in San Jose, CA. For more information about the RAPS Awards Program, visit RAPS.org/awards. For more on RAPS Fellows, visit RAPS.org/fellows.
The RAPS Awards are selected based upon the following five categories:

The Richard E. Greco Award is the highest honor bestowed by RAPS. It recognizes outstanding leaders, who have made significant contributions to the regulatory profession and to RAPS, and who also show personal involvement and commitment either with RAPS or within their community.
The Global Leadership Award recognizes professionals who exemplify leadership and contributions toward development of the regulatory profession and toward increasing awareness of RAPS in societies and economies worldwide.
The Leonard Stauffer Award recognizes exceptional contributions to mentoring and furthering regulatory professional education development including special achievements related to Regulatory Affairs Certification (RAC).
The New Professional Award recognizes professionals early in their career for exceptional service or special accomplishments in the regulatory profession and to RAPS.
The Special Recognition Award recognizes unique contributions and achievements of individuals and organizations that advance the quality of health and the regulatory profession.
The RAPS Fellows program recognizes senior regulatory professionals, with a minimum of 15 years of regulatory experience, for their continued significant contributions and leadership in the advancement of the profession and the professional. Fellows receive a dignified status and special services from RAPS and serve as important resources for strategic dialogue, mentoring, implementation of special initiatives and international development.
About RAPS
The Regulatory Affairs Professionals Society (RAPS) is an international membership organization of regulatory professionals in the rapidly growing medical device, pharmaceutical and biotechnology sectors. Regulatory professionals play vital roles in making better healthcare products possible. They work throughout the healthcare product lifecycle, ensuring these products are safe and effective, while driving organizational strategy and sound decision-making. RAPS supports these individuals and the regulatory profession by providing education and training, Regulatory Affairs Certification (RAC), professional standards, research, knowledge-sharing, publications, networking, career development opportunities and other valuable resources; and is committed to helping its members continually develop the knowledge and skills they need to excel. RAPS is headquartered near Washington, DC, with offices in Brussels and Tokyo. RAPS.org
###