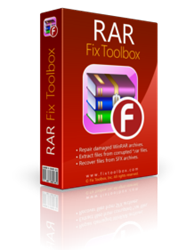 Alexandria, VA (PRWEB) January 23, 2013
Victor Bobrov, the developer of RAR Fix Toolbox, announces the release of RAR fix solution in its later version, providing higher efficiency of data compression engine and restoring more information than before. This program offers the restoration of WinRAR compressed documents on any computer without considering the hardware configuration in use. The procedure of RAR fix uses almost the same approach like other RAR and ZIP compression tools and services, so there is no need to worry about the complexity of its activities. Besides, the interface of RAR Fix Toolbox looks the same, all changes cover the internal structure of RAR fix program.
RAR Fix Toolbox uses improved data recovery engine applying heuristic file decompression algorithms, suitable in all instances of analysis. This program works according to the scenario, preset by its developers so there is no need to modify some additional settings, the users of RAR fix software should select a document of RAR supported format and forget about other steps because the activity of RAR Fix Toolbox is fully automated and there is no need to change its settings. After the installation of RAR fix software its users may closer evaluate the efficiency of selected file decompression tool and check it is as good as advertised. Besides, the testing of RAR Fix Toolbox is free of charge therefore it can be installed on virtually computer anytime the damage affects RAR archives in use.
Fix Toolbox application developer suggests recovering more than twenty popular data formats locally, without involving other services and engineers so the privacy of analyzed information is always protected. This company works for more than ten years and has a lot of experience in developing data recovery algorithms and data recovery tools. This company can be found at:
http://www.rar.fixtoolboxx.com site.