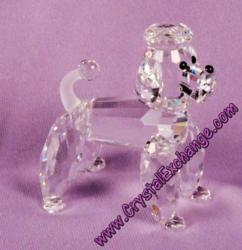 (Vocus/PRWEB) November 29, 2010
Crystal Exchange America is pleased for several of their clients that they were able to close a transaction on an exceptional retired Swarovski figurine. It was an extraordinary piece. The figurine is recognized by most Swarovski collectors as the 'Standing Poodle with a Frosted Tail'.
The 'standing poodle with a frosted tail' is a virtually identical to the Standing Poodle that retired in 1997. The exception is the small crystal stone that attaches the poodle body to the pom at the end of the tail. One is frosted and the other is clear. It is worthwhile to mention another poodle design manufactured by Swarovski. It is the Sitting Poodle. While the Sitting Poodle does have a frosted tail, it has a different shape to it, thus the components used on the two poodles are not interchangeable. The Swarovski designer for both poodle designs was Adi Stocker.
Some Swarovski collectors are hesitant to form an opinion on the authenticity of the Standing Poodle with the frosted tail. Some collectors claim that it is an after-market alteration. However, the 'standing poodle with a frosted tail' is publicized in the official Swarovski crystal literature for Fall Introductions, 1992. Additionally, the official Swarovski magazine, dated April 1997, shows the Standing Poodle 'with the clear tail' as they announce silver crystal retirements for the calendar year. The company's own literature should be sufficient evidence to dispel any forgery theory.
The 'standing poodle with a frosted tail' is unusual, and is difficult to locate on the secondary market or in the online auctions. Warner's Blue Ribbon Books does document the two variations in their books and does assign a Swarovski Value (for insurance purposes) to each variation. Now, with legitimate supporting company advertisements, Swarovski crystal fanatics may consider purchasing this rare variation Swarovski figurine with confidence.
Crystal Exchange America can be found by visiting their website which has been online for over 14 years... a testament to their quality and success in the crystal industry. Presently, they have over 5000 Swarovski figurines in their online store, most of which is retired Swarovski.
For the avid Swarovski crystal collector looking for more than the retired figurines, Crystal Exchange America also sells the most popular books on Swarovski Crystal. Two of the collectors' favorite Swarovski price guides are written and published by Swarovski collectors for the past eighteen consecutive years: Warner's Blue Ribbon Books on Swarovski.
Crystal Exchange America, a retired Swarovski dealer, is not affiliated with, endorsed, or sponsored by Swarovski. Crystal Exchange America is an independent company providing a specialist service to collectors of Swarovski Crystal and Swarovski Silver Crystal.
# # #