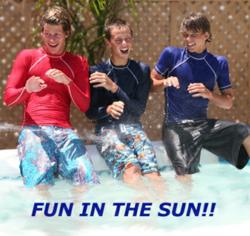 Sun safe swimwear for the whole family..
Seal Beach, CA (PRWEB) April 13, 2012
The Rash Guard Company's rash guards and swim shirts have been officially approved by the Australian Radiation Laboratory and have received a UPF 50+ / SPF 150+ certification. So now in addition to being exceptionally stylish, comfortable and loose fitting, their line of rash guard swim shirts are officially "sun safe."
The Australian Government has been a leader of Ultraviolet Protection Factor (UPF) Testing and research for over two decades. Over-exposure to solar ultraviolet radiation (UVR) can cause sunburn, skin damage and an increased risk of developing skin cancer. Clothing provides one of the most convenient forms of protection against UVR, but not all garments offer sufficient sun protection.
Sun protective rash guards and swim shirts are specifically designed to block the sun's harmful ultraviolet rays. "30 years of manufacturing experience has taught us a lot about making a high quality product. We insist that all the products we make meet our high quality standard so that we can guarantee our customers more value through our product," says Tyler Collins, President of the Rash Guard Company.
"Our quality control procedures during manufacturing ensure that each shirt meets the specifications we've proven to enhance our rash guards with sun protection, increase comfort and flexibility, and offer you something stylish all at once. The Made in U.S.A. guarantee is often overlooked. People need to realize that something manufactured overseas won't give them the proper protection or durability they deserve. Every UV protective swim shirt we offer is handcrafted right here in Surf City (Huntington Beach, California)."
UV radiation damages the skin (widely known as UVA/UVB/UVC rays). Exposure to such UV radiation not only causes sunburn, but also long lasting damage resulting in premature skin aging and/or skin cancer.
A rating of UPF 50+ far exceeds the suggested and much needed protection from the sun. When shopping for UV rash guards and swim shirts, or any sun protective clothing for that matter, be sure you find a company you can trust.
This organization is offering global distribution and manufacturing of swimwear and surfing apparel for businesses, organizations, and associations. Wholesale and custom order inquiries are welcomed.
For more information about the Rash Guard Company please visit http://www.myrashguards.com or call (949) 278-5015.