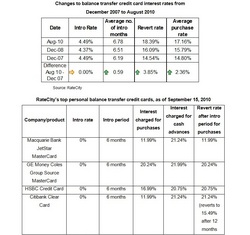 Caught out: credit card providers sneaking up balance transfer rates
Sydney, Australia (PRWEB) October 9, 2010
RateCity reveals balance transfer revert and purchase rates hiked up
Market for balance transfer rates 'for life' almost ends
The best way to beat the banks with a balance transfer card!
Australia's credit card providers are pushing up 'hidden' interest rates such as 'revert' rates on balance transfer cards, according to new findings by Australia's best financial comparison website RateCity.
The average purchase rate on balance transfer credit cards after the intro period ends (also known as the revert rate) has increased by 3.85 percentage points since December 2007, to 18.39 percent (as at September 15). The average purchase rate on balance transfer cards has also increased, by 2.36 percentage points from 14.80 percent in December 2007 to 17.16 percent in August 2010. (See table below).
This is while the official cash rate has dropped by 2.25 percentage points since December 2007, from 6.75 percent to the current 4.50 percent (as at September).
Damian Smith, RateCity's CEO, said the most vulnerable credit card users who have an ongoing balance are being stung the hardest by card providers.
"We have found that credit card holders who switch to a balance transfer credit card and keep using the card after the intro period have been hit the hardest with interest rate charges over the past few years.
"While the average introductory rate for balance transfer cards is exactly the same as it was in December 2007, we've seen credit card providers push up their interest rates on purchases and revert rates for balance transfer cards quite substantially. These purchase and revert rates, of course, are far less obvious than the widely-advertised balance transfer introductory rate, so consumers have to look carefully at each credit card offer.
"In fact, for a $5,000 debt on a balance transfer credit card after the intro period ends, these credit card holders are paying an extra $16 per month than what they were in December 2007," he said.
Another interesting change is the diminished number of balance transfer cards with a low rate 'for life', which means the debt you transfer onto the card will receive a low interest rate with no end period as long as the minimum repayment is met.
"In December 2007 RateCity recorded 84 balance transfer cards with a low rate for life whereas now there are only three including from Suncorp Bank and Citibank," said Mr Smith.
It's not all bad news for consumers who have credit card debt according to Mr Smith, as RateCity found that the intro periods for balance transfer credit cards has increased since December 2007, from an average of 6.2 months to almost seven months.
"Consumers now have more time than they did three years ago to take advantage of low interest intro periods and pay down their debts," he said.
While it has gotten tougher for credit card holders with a debt on their cards, there are still plenty of opportunities to save on interest and pay down your debts for good, according to Mr Smith.
"There are currently 11 credit cards that offer no interest charges for up to six months and if used properly, they are still a great way to save you a lot of money in interest.
"The best way to use balance transfer cards is to pay off as much as you can during the low interest period and don't use the card to make purchases or cash withdrawals because you are usually charged a lot more in interest for transactions. Once you have paid off your debt, compare the interest rates to what's on the market and consider closing it for a cheaper card.
"Make sure you read the contracts and all terms and conditions carefully before signing anything," said Mr Smith.
For Further information please contact:
Michelle Hutchison
Consumer Advocate & PR Manager
Tel: +61 2 8917 8005
About RateCity
RateCity is Australia's best financial comparison website, where Australians can easily search, compare and apply for over 13,000 financial products – from credit cards to home loans to car insurance – from over 250 institutions. Our job is to take the hassle out of finding the right financial products online – saving our users both money and time.
RateCity is a private company with an AFS Licence (AFSL: 316 710), powered by CANSTAR CANNEX, in partnership with ninemsn.
Disclaimer
To the extent that any RateCity Pty Limited data, ratings or commentary constitutes general advice, this advice has been prepared by RateCity Pty Limited ABN 12 122 743 542 AFSL 316710 and does not take into account your individual investment objectives, financial circumstances or needs. Information provided on and available from this site does not constitute financial, taxation or other professional advice and should not be relied upon as such. RateCity Pty Limited recommends that, before you make any financial decision, you seek professional advice from a suitably qualified adviser.
Product Disclosure Statement relating to the product should also be obtained and considered before any decision about whether to acquire the product.
Please refer to RateCity's FSG for more information.
###