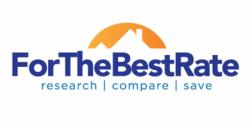 Though we continue to see many homeowners who can benefit from a refinance to today's low rates, we are also seeing a great deal of purchase activity
Wilmington, NC (PRWEB) April 08, 2013
Mortgage rates for fixed rate programs fell on average this week reports mortgage rate research website, ForTheBestRate.com, meaning extremely low cost home financing continues to be available to qualified consumers. On Friday, April 5th, 2013, 30 year fixed mortgage rates were advertised in the rate tables as low as 3.125% (APR: 3.253%, Points: 1.000, Fees in APR: $995, Lender: New Penn Financial, LLC. 15 year fixed rates were posted as low as 2.375% (APR: 2.517%, Points: 1.000, Fees in APR: $0, Lender: Roundpoint Mortgage Company,) and 5/1 ARM interest rates as low as 2.375% (APR: 2.578%, Points: 0.000, Fees in APR: $790, Lender: Consumer Mortgage & Investment Corp) were advertised on the website.
The weekly survey of mortgage rates released by Freddie Mac, a government sponsored enterprise and purchaser of mortgage loans on the secondary market, on Thursday, April 4th, 2013 also showed the decline in pricing across three out of four products measured. The data revealed that 30 year fixed mortgage rates fell to an average of 3.54% (0.8 points), from 3.57% (0.8 points) the week before. 15 year fixed rates were also down on average to 2.74% (0.7 points) from 2.76% (0.8 points) one week earlier. 5 year adjustable rate pricing moved lower to 2.65% (0.5 points) on average, down from 2.68% (0.6 points.)
Only 1 year adjustable rates were higher this week, averaging 2.63% (0.4 points), slightly up from the 2.62% (0.3 points) one week before.
"Though we continue to see many homeowners who can benefit from a refinance to today's low rates, we are also seeing a great deal of purchase activity," commented Brian Mitchell, Division Manager at Gateway Bank Mortgage, a regional mortgage company serving the Southeast. "We're getting into the time of year that is very popular for home buying, and when you throw in very low mortgage rates and some renewed confidence in the economy, it all adds up favorably for real estate sales," he continued.
Below is a snapshot of interest rates for a variety of programs listed on 4/5/13 on ForTheBestRate.com. Virginia Beach, VA mortgage rates represented in this survey. Rates are subject to change. Please visit the site to view the criteria used in the survey.
30 Year Fixed Mortgage Rates
Credence Mortgage - 3.125% Note Rate, 3.271% APR, 1.000 Points, $1370 Fees in APR
Roundpoint Mortgage Company - 3.125% Note Rate, 3.285% APR, 2.000 Points, $0 Fees in APR
15 Year Fixed Mortgage Rates
Gateway Bank Mortgage - 2.375% Note Rate, 2.559% APR, 0.750 Points, $898 Fees in APR
Credence Mortgage - 2.500% Note Rate, 2.569% APR, 0.000 Points, $800 Fees in APR
10 Year Fixed Mortgage Rates
Roundpoint Mortgage Company - 2.250% Note Rate, 2.458% APR, 1.000 Points, $0 Fees in APR
Aurora Financial - 2.500% Note Rate, 2.500% APR, 0.000 Points, $0 Fees in APR
5 Year Adjustable Rate Mortgage Rates
Sekel Capital - 2.500% Note Rate, 2.593% APR, 0.000 Points, $652 Fees in APR
ThirdFederal Savings & Loan - 2.390% Note Rate, 2.628% APR, 0.000 Points, $1553 Fees in APR
About ForTheBestRate.com
ForTheBestRate.com is a website that offers information regarding mortgages, insurance, and personal finance. ForTheBestRate.com is owned by CMG Equities, LLC based in Wilmington, North Carolina. For more information, visit http://www.forthebestrate.com/