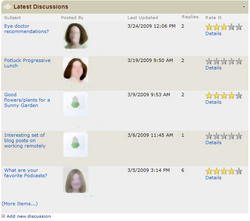 "KWizCom has made it easy for us to collect user feedback, and even easier for the users to provide that feedback! The star rating adds a wonderful and effective visual appeal to web part pages and list views. Thanks, KWizCom!!" Katrin Weixel, ASHA
Toronto, Canada (PRWEB) July 27, 2009
The American Speech-Language-Hearing Association (ASHA) is the professional, scientific, and credentialing association for 135,000 members and affiliates who are speech-language pathologists, audiologists, and speech, language, and hearing scientists in the United States and internationally.
The ASHA staff includes about 30 professionals in audiology or speech-language pathology, in addition to professionals in the areas of: accounting and financial management, adult learning, association management, epidemiology, facilities management, graphic design, human resources, information systems, lobbying, marketing, meetings and conference management, postal operations, publications, public relations, research, survey methodology and more.
The professionals that make up the ASHA community work together, with the common vision of making effective communication, a human right, accessible and achievable for all. The purpose of the American Speech-Language-Hearing Association is to empower and support speech-language pathologists, audiologists, and speech, language, and hearing scientists by advocating on behalf of persons with communication and related disorders, advancing communication science and promoting effective human communication.
ASHA implemented a community section as part of their Intranet to provide a "virtual bulletin board" and streamline community interaction (which had previously taken place in disruptive manners such as mass emails). The community section was implemented successfully; however it lacked some of the functionality that ASHA staff desired.
The ASHA intranet lacked an easy way for users to comment on and rate various items. HR and other site users expressed an interest in finding a rating method similar to the popular Amazon.com review/rating system. The idea was to find a similar way to engage staff and make this review/rate process an easy option to add to any list on the intranet. ASHA wanted to find a way to allow multiple users to review a single item (for example, a restaurant in a list of local establishments or an idea in a list of "bright ideas"). ASHA wanted to allow both rating and general comments/reviews to show a quick visual of the average star rating, and have the ability to sort views by the ratings so great reviews could be highlighted at the top of a list.
In August 2008, when ASHA upgraded to MOSS 2007, it seemed like the right time to solve the problem at hand as well. SharePoint promotes team sharing and collaboration in and of itself but does not give a method to create what ASHA wanted.
ASHA's head of Human Resources, Janet McNichol, could visualize the solution: "We needed a way to rate what we were talking about. A specific place, just for that. I imagined something organized, easy to use and fun. A rating system like what Amazon uses with the stars." ASHA decided to search for a solution, preferably one that would mesh well with the MOSS 2007 infrastructure they were implementing. After reviewing different solutions, ASHA chose KWizCom's SharePoint Rating Solution.
KWizCom's SharePoint Rating Solution brought many benefits to ASHA. One benefit not to be underrated is the simple fact that the solution ASHA chose is an add-on to SharePoint. "We were excited to find KWizCom had built a solution specifically for use with SharePoint!" says Katrin Weixel, ASHA's Intranet Manager. KWizCom's SharePoint Rating Solution meshes smoothly with SharePoint and is easy to deploy. There was no need for an expensive custom solution. No need to oversee a complicated deployment or invest time training users to utilize the add-on.
KWizCom's add-on was a cost effective solution that brought ASHA the capabilities they wanted with minimal investment of time, resources or funds.
"We liked that the add-on is user friendly and fun. KWizCom's SharePoint Rating Solution is visually appealing. It breaks up the text heavy SharePoint and gives the shared space a more friendly feel. That is exactly what we wanted to give the ASHA community." says Katrin Weixel, ASHA's Community and Intranet Manager.
ASHA uses the Rating Solution to assist in some decision making processes, enhance community involvement and promote networking. KWizCom's Rating Solution promotes community discussion in a fun, appealing way.
ASHA has described additional capabilities they wish were in the Rating Solution. As the add-on is implemented in the ASHA intranet, it is difficult to share information with others, not utilizing the intranet. The ability to export user comments to a spreadsheet would solve this difficulty, enabling others to view the ratings and comments. In the ability to extract more information from the statistics of rating use would be beneficial. For example were they able to easily see how many people voted on an item it would make it easier to know how much value to place on the rating (if twenty people rate an item highly, it is obviously a more valuable piece of information than if only two people gave a high rating).
Nimrod Geva, KWizCom's VP Sales & Marketing says: "It's good to learn that clients like the American Speech-Language-Hearing Association have implemented our solutions so successfully. We highly appreciate their feedback on the Rating Solution - we are already putting it to good use and making improvements for the next version we will release. Their feedback will bring future benefit."
###