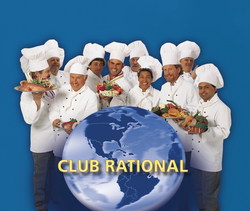 (PRWeb UK) March 21, 2010
Fans of the Rational SelfCooking Center can now join Club Rational, the SelfCooking Center's own online club. Membership is free and it just takes a few minutes to register. Club Rational is a portal to news, recipes, upgrades, contacts and all things Rational.
Browsing through the recipes on the site, all of which are downloadable, will confirm the ease of use of the SelfCooking Center. It really is just a question of putting together the ingredients, selecting the correct programme and desired cooking level and pressing start. That's all there is to it - leaving the chef free to work on presentation and menu development, safe with the knowledge that the cooking process is under control.
Joining Club Rational gives members access to upgrades and new programs that can be either downloaded onto Rational's dedicated USB stick or directly to the SelfCooking Center itself. Owners of older models can order an upgrade kit for only £25 (ex VAT and carriage). For this they get the Rational USB stick, ready formatted to receive the downloads, giving access to new cooking modes allowing more flexibility and creativity.
Through ChefLine experienced master chefs are on hand to club members 365 days a year - either by email or by calling the club's special telephone number. But for those wanting a more hands-on approach, the Club Rational website has a complete list of all TeamCooking Live events throughout the UK. These can be booked from the Club Rational website completely free of charge.
Club Rational is more than just a knowledge base, it also allows social networking between members. Chefs can set up their individual profile and search for contacts and job opportunities, and keep up to date by signing up for the regular newsletters.
For information and brochures, or to arrange to come to a free SelfCooking Center® 'TeamCooking Live' seminar, contact your dealer, freephone Rational UK on 0800 389 2944 or call +44 800 389 2944. For product information and contact details see http://www.rational-UK.com.
###