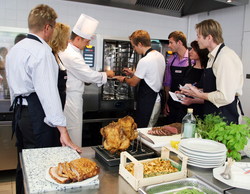 Delivering the best possible benefits to our customers is part of our company philosophy
(PRWeb UK) April 10, 2010
Rational Launches Academy Seminars – free intensive training for combi owners. Combi cooking technique seminars will 'set the standard' for customer benefits in 2010. SelfCooking Center® users now benefit from 'Academy' intensive training – and it's free!
"Delivering the best possible benefits to our customers is part of our company philosophy," says Vic Brown, managing director of Rational UK. "With our new Academy Seminars, we believe we are setting new standards in terms of customer support."
Rational's Academy Seminars are a full day of intensive training. A 'heads up' on the most efficient way to use the SelfCooking Center in the kitchen, they help chefs 'de-stress' their daily business. The seminars are available in addition to the comprehensive on-site training already offered to new purchasers by Rational and its authorised dealers.
Along with lots of practical and stimulating tips from experienced Rational chefs, the Academy Seminar also shows the best way to use the many accessories Rational has developed for the SelfCooking Center. Furthermore, chefs get 'hands-on' guidance showing how the SelfCooking Center can enhance life in the busy kitchen.
The Rational Academy Seminar is not only for new owners of the SelfCooking Center. It's also an ideal opportunity for new employees to get training on the SelfCooking Center technology, for everyone to find out about the latest techniques, and for 'old' staff to refresh their knowledge.
"Each seminar lasts just a few hours, but the benefits are enormous," says Vic Brown. "It's time that is really well invested."
In addition to support documents, all participants get a certificate that confirms their successful participation in The Rational Academy Seminar.
The Seminars are free to attend and they take place throughout the UK. For dates and locations, please contact your dealer, freephone Rational UK on 0800 389 2944, call +44 800 389 2944 or visit http://www.club-rational.com/gb - visitors will need to join Club Rational to access the site, but that's free too!
###