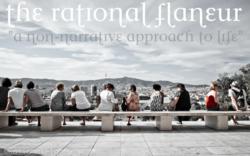 Phoenix, AZ (PRWEB) April 04, 2013
The rational flaneur, as defined by Nassim Taleb, is "Someone who, unlike a tourist, makes a decision opportunistically at every step to revise his schedule (or his destination) so he can imbibe things based on new information obtained. In research and entrepreneurship, being a flâneur is called "looking for optionality." It's a non-narrative approach to life.
The Rational Flaneur follows this non-narrative approach. It features a mix of high quality photography with views of places like the Wawel Castle in Krakow, Poland, the Nanos Mountain in Slovenia, old mines a thousand years old, concerts, wall murals, cities, people and portraits in the visual portfolio.
Essays cover topics such as the best smell or the best month. One popular section is Architecture and Design, which features remodeling of small mid-century modern spaces in Phoenix.
A newer feature is the occasional flaneurism (not a real word), a selection of interesting finds from around the web.
A Rational Flaneur, just as one intentionally lost in a city, wanders through a maze of topics, observing, questioning and making new paths based on new information. It's visual, opinionated and entertaining.
To learn more about the Rational Flaneur and to view the many photographs from around the world visit the RationalFlaneur.com
Contact.
Artur Ciesielski
602-492-8004
artur(at)inphoenix(dot)com