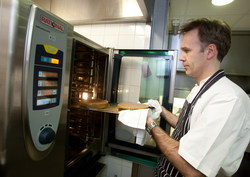 The Rational SelfCooking Center gives us the consistent quality we need, every time. You don't get that from any other oven – no combi steamer, conventional oven or baking oven can match it
(PRWeb UK) May 20, 2010
Custard tart may not be the first food one associates with two Michelin stars. But since Marcus Wareing prepared it on the Great British Menu, to celebrate the Queen's 80th birthday, it has become a signature dish at his eponymous restaurant at The Berkeley in Knightsbridge. So much so that people come specifically to taste the famous creation. Which means it has to be perfect, every time. And according to the master chef, the only way to achieve a custard tart with the quality that two Michelin stars demand is to bake it in a Rational SelfCooking Center.
"The Rational SelfCooking Center gives us the consistent quality we need, every time. You don't get that from any other oven – no combi steamer, conventional oven or baking oven can match it," he says.
The Rational at The Berkeley is used for all of the restaurant's pastry items (including the custard tart) plus other hot kitchen preparations (such as rhubarb and olive oil muffins served with foie gras) as well as for a variety of other tasks, steaming vegetables for soups and purees for example. It's also used for overnight cooking, including drying out vegetable and fruit crisps – another process that requires precision control.
"For years we've had an older Rational, a ClimaPlus Combi, and it still gives great service. But the new SelfCooking Center is even better, a real improvement. Results are superior and more consistent," says Wareing.
Before Wareing installed his new Rational he attended a TeamCooking Live demonstration to see the latest models in action. "The Rational chefs showed me what the SelfCooking Center can do and, frankly, I was gobsmacked," he admits. "The potential is huge, for all sorts of cooking."
"Another big plus with Rational is the support that we get, after the sale, both from the company and its chefs," adds Wareing. "If there are any issues, they are here to sort them right away, there's no waiting."
The Rational is simple to operate and it's also very quiet, which is a big plus in the busy kitchen. Plus, the new CareControl feature means there no need for a water filter – a vital space saver in any kitchen where space is limited.
"We switch it on at 7am and turn it off at 1am – unless we're using it to cook overnight," says Wareing. "So it has to be ultra reliable. And after anything up to 17 hours in the kitchen, the last thing any member of staff wants to do is scrub the oven, so the fact that the Rational cleans itself is a huge bonus.
"It's invaluable. We wouldn't use any other combi steamer."
For information and brochures, or to arrange to come to a free SelfCooking Center® 'TeamCooking Live' seminar, contact your dealer, freephone Rational UK on 0800 389 2944 or call +44 800 389 2944. For product information and contact details see http://www.rational-UK.com. For information about Club Rational, including recipes and combi tips, visit http://www.club-rational.com/gb. Follow Rational UK on Twitter and Facebook.
Copy ends
Marcus Wareing 2 – May-10
Press Enquiries:
Toni Turner or Alison Haynes at The Publicity Works: 01263 761000; Email: rational@publicityworks.biz
Vic Brown at Rational UK: 01582 480388
More information on Rational UK from http://www.rational-UK.com and Club Rational
Follow Rational on Facebook and Twitter
'SelfCooking Center' and 'TeamCooking Live' are registered trademarks of Rational.
Separations charge enquiries: offers can only be accepted by fax on 01263 761009 or by email to seps@publicityworks.biz.
All offers are considered. We will call you if the answer is 'yes'. Otherwise the answer is, regrettably, 'No'.
Marcus Wareing's Rational SelfCooking Center:
Model: SCC 101
Capacity: 10-grid unit, 10 x 1x1 gastronorm pans
9 SelfCooking Modes: Roasting joints, Grills/Pan fries, Poultry, Fish and Seafood, Side dishes/Vegetables, Potato products/dumplings, Egg dishes/Dessert, Baking, Finishing®
3 Combi-Steamer Modes: Moist heat 30C-130C, Dry heat 30C-300C, Combination of moist heat and dry heat 30C-300C
Rapid heat and rapid cool down
CleanJet® automatic cleaning system
CareControl: automatically monitors the oven for the level of soiling and tells the operator when to run the self-cleaning programme. This both minimises and optimises cleaning. Scale-dissolving ingredients contained in special care tabs prevent limescale building up, guaranteeing maximum operational reliability at all times, without expensive water softeners or time-consuming descaling.
Sustainability: the SelfCooking Center uses 15% less energy than other combis and 60% less energy than traditional cooking equipment. It cooks 15% faster than other combis. It replaces 40-50 % of all conventional cooking appliances such as hot air ovens, stoves, boiling pans, steamers and deep-fryers. By minimising cleaning, CareControl helps protect the environment.
###