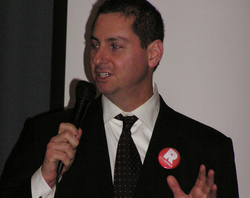 is a win for Republicans nationwide.
Washington, DC (Vocus) February 21, 2010
U.S. House candidate David Ratowitz this week proclaimed his high-profile Illinois District 5 a bellwether of Republican success nationwide and his organization in ideal position to focus opposition resources close to home to limit Democrat victories elsewhere. "A win in Illinois 5," Ratowitz said of the infamous district formerly represented by Rahm Emanuel and indicted Illinois Governor Rod Blagojevich, "is a win for Republicans nationwide."
Ratowitz, who won his hotly contested, three-way First in the Nation Primary to become the Republican nominee on February 2, made his comments in an interview with Breitbart.com Big Hollywood blogger and Stage Right Show radio host Larry O'Connor at this week's Conservative Political Action Conference in Washington, D.C.
"The 5th Congressional District is very important strategically for Republicans all across the country," Ratowitz explained. "The Chicago Machine sends its troops all over the country. If you look at every formerly red district that went blue in '06 or '08, you will see Chicago Machine troops knocking on doors, working those campaigns."
He continued, "Investment in Illinois' 5th ultimately is an investment in races as far afield as Florida, Pennsylvania, Colorado, each battleground district. It's time that we made the Chicago Machine fight – and lose – on its own home turf."
About David:
Entrepreneur, Army veteran and conservative activist David Ratowitz is the Republican challenger for Illinois Congressional District 5 representative. The Ratowitz for Congress campaign platform advocates a limited federal government, across-the-board tax cuts, fiscal discipline and accountability, free markets and individual liberty. Learn more at his campaign website.
###