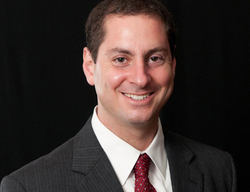 It is certainly an honor to have been selected to participate in this collaboration
Chicago, IL (Vocus) October 29, 2009
David Ratowitz, Republican candidate for U.S. Congress in Illinois' 5th District, is among 19 conservative candidates taking part in a national donation drive on November 5. The candidates, hailing from points across the United States, are seeking office at local, state and federal levels, many for the first time. All have made formal platform commitments to cutting taxes, eliminating national debt and working for a more limited federal government.
"It is certainly an honor to have been selected to participate in this collaboration," remarks Ratowitz. "Our campaign is enjoying a warm reception here in the Chicago area. It is quite encouraging to witness the enthusiasm from voters across the country as well."
Supporters taking part in the "ThisNovember5th" initiative pledge $25 to their candidates of choice at the ThisNovember5th website, then donate en masse throughout the day on November 5 at the candidates' individual websites. The event was inspired by a record-setting online fund-raiser in 2007 for then presidential candidate Rep. Ron Paul (R-TX), for whom $4.2 million was raised in one day.
"Each of these candidates is a true patriot with an honorable cause: reducing the size and scope of federal government," Ratowitz continues. "Our shared goal is reclaiming greater authority at the state and local levels, where policies have proven to be most effective."
Learn more about David Ratowitz's run for Congress at his campaign website. Phone 773.897.5800.
About David Ratowitz:
Entrepreneur, Army Ranger and conservative activist David Ratowitz is running for U.S. Congress in Illinois' 5th Congressional District. He is seeking the Republican nomination in the February 2, 2010, primary election. The Ratowitz for Congress campaign platform supports limited government, free markets, fiscal discipline and accountability, and individual liberty.
About Illinois Congressional District 5:
The 5th Congressional District was represented by Rahm Emanuel before the congressman was appointed as President Obama's Chief of Staff. It is currently represented by Democrat Mike Quigley.
###