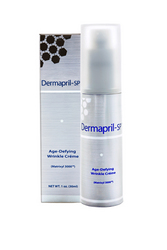 But having a disciplined study like this makes us feel even better about the safety of our product.
Miami Beach, FL (PRWEB) June 18, 2008
Demapril-SP, the age-defying wrinkle cream from Rauscher | Bekke, passed rigorous testing conducted by a trusted research laboratory and can now be labeled 'hypoallergenic' and 'safe for sensitive skin,' the company announced today.
New York-based Cantor Research Laboratories, Inc. conducted two separate standardized tests on Demapril-SP in order to allow these highly esteemed claims to be made about the product.
"Sometimes people with sensitive skin are nervous about trying a new skin care product because they fear allergic reactions," says Veronica Reina, general manager of Rauscher | Bekke. "Even those types of consumers can now feel very comfortable using Dermapril-SP."
Dermapril-SP with Matrixyl 3000™ offers revolutionary skincare technology that diminishes the appearance of fine lines, wrinkles and sagging to give skin a radiant and youthful look.
The first study monitored 50 human volunteers who applied Dermapril twice a day for eight weeks and then were checked for signs of adverse reactions. None of the subjects experienced any. That clears the way for Dermapril to be labeled 'Hypoallergenic'.
The second skin test watched 25 individuals self-described as having "highly sensitive" or "prone to negative reaction" skin. They were asked to apply Dermapril-SP to their skin twice a day for eight weeks. Not one person had any adverse reaction, allowing Rauscher | Bekke to label the wrinkle cream as 'Safe for Sensitive Skin.'
"When we submitted Dermapril-SP for testing we were cautiously optimistic about the outcome because we so rarely registered customer complaints about any sort of adverse reactions," says Reina. "But having a disciplined study like this makes us feel even better about the safety of our product."
Rauscher | Bekke is eager to indicate these new safety claims on the product packaging and marketing collateral.
For more information about Demapril, please visit Dermapril-SP by Rauscher | Bekke
###