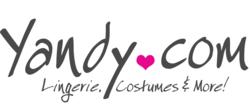 PHOENIX, Ariz. (PRWEB) January 13, 2012
Yandy.com, online retailer of sexy lingerie and Halloween costumes, has branched out to embrace the rave community with its collection of rave clothing featuring flashing lights, vibrant colors and plush fabrics.
With trendy designers in the costume industry catching on, Yandy has grown the popular ravewear collection to feature dozens of styles. The light-up skirted, ravewear set, for example, features a metallic, lace-up triangle top, matching mini skirt with layered tulle and dancing, LED lights that can be adjusted to the beat of the music. Customers can complete the set with a plush hood complete with matching LED lights and faux fur leg warmers, also with built-in lights. Another great find at Yandy is the organza rainbow tutu. Paired with any basic top and the matching, faux fur rainbow leg warmers, and anyone can be prepared for a night to remember... or forget!
Yandy also features a new line by Josie Stevens, wife of renowned rocker, Steve Stevens, called Josie Loves J. Valentine that would easily fit in to any kandi kids wardrobe. The new line features cage skirts and tops, vibrant colors and oversized accessories like spiked hair bows.
For those customers that prefer to keep their raving sanctioned strictly for dress up, all of the rave clothing items found at Yandy would make for perfect rave costumes. Complete the look with some neon gloves, shredded tights and some glow sticks and the costume is complete.
In addition, Yandy offers same-day shipping, so those ravers can rest assured that even when shopping at the last minute, orders arrive in a timely manner. Yandy also offers free flat rate shipping on all orders over $70.
About Yandy.com
E-commerce is on the rise and Yandy.com is one of the largest online retailers of lingerie, sexy Halloween costumes, swimwear and clothing on the web. Founded in 2003, Yandy boasts more than 6,500 products always in stock at easily affordable prices. Yandy ensures that every costumer will receive a safe, secure and private online shopping experience and is backed by COMODO online security and Google Checkout. Yandy is dedicated to customer service and only sells what is in stock which allows for quick, same day shipping. Offering the highest quality products at the most affordable prices in the market, Yandy has become a leader in ecommerce. Yandy works closely with all of the manufacturers they distribute for and hand select all of the items on the Web site to ensure customers have the largest and most diverse collection to choose from. In addition, the customer service team at Yandy is unrivaled. With attentive and helpful operators, should a question or problem arise, the customer service team at Yandy is always willing and able to assist. At Yandy, every customer can Be Sexy.
###