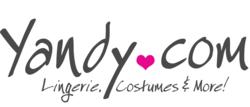 Phoenix, AZ (PRWEB) May 23, 2012
Yandy.com, online retailer of lingerie, ravewear, costumes, clothing and more, announces the addition of a new exclusive ravewear collection to the site. With popular rave events like Las Vegas' Electric Daisy Carnival just around the corner, the new exclusive collection from Yandy could not have come at a better time.
The new Yandy exclusive, neon clothing collection complete with tops, shorts, thongs, rompers and accessories was designed to create a one-of-a-kind, head to toe look for rave-goers. Some of the stand out pieces in the collection include a sexy rainbow monokini with a rainbow, multi-string front, scrunch bottom back and O-ring detail for $67.95, a neon boy short with wrap around straps and triangle top set with neon rainbow trim for $84.95 and a wrap around bikini top and neon ruffle skirt set for $65.95.
To complete their kandi kid look customers can accessorize with neon fishnet gloves for $9.95 and neon rainbow, lace-up arm wraps for $7.95 each. A unique feature of the new collection is that all of the items are black light receptive so when the lights go down the clothes light-up.
With this collection being a Yandy exclusive, party goers are guaranteed to rock a stand-out look at their next event. While always striving to offer the widest selection of items for customers, whether it be sexy lingerie, Halloween costumes or, in this case, rave wear, it is also abundantly clear that Yandy sees the importance in offering exclusive items as well. "We have found that people enjoy shopping our Yandy exclusive items, even if the prices are slightly higher than our standard items, because they can feel confident that more than likely, they'll be the only person wearing the outfit they purchased at their next rave or party," said Yandy CEO, Chad Horstman. "It's almost as if Yandy becomes their own secret boutique for one-of-a-kind outfits."
With events like EDC hitting Las Vegas in June, the addition of this new exclusive rave collection at Yandy comes at the perfect time. EDC is one of the largest electronic dance music festivals in the country with three days of events offering an all encompassing view into the rave culture. Even with such a highly attended event, rave-goers are sure to stand out in the crowd when shopping Yandy's rave collection that is as unique as the sub-culture that they thrive in.
About Yandy.com
Yandy.com is one of the top e-commerce web sites today, carrying everything from lingerie, Halloween costumes, rave wear, clothing, swimwear and accessories. Boasting more than 7,000 products available for purchase, Yandy's collection of inventory is unrivaled. In addition to offering such a vast selection of merchandise, Yandy carries everything in-house and ready to ship the same day a product is ordered, a feature rarely seen in the industry. Yandy works closely with all of the designers featured on the site to ensure that the best and most affordable pricing is available to customers. By offering the highest quality products at the most affordable prices in the market, Yandy has become a leader in the e-commerce industry. Yandy also features a dedicated customer service team available seven days a week by phone, email or online chat to ensure that every customer has a pleasurable shopping experience no matter the circumstance. Yandy also offers a wide selection of plus size lingerie and costumes because at Yandy, every customer can Be Sexy.
###