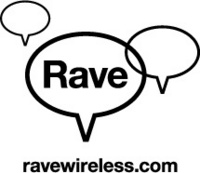 We're excited about Rave's suite of mobile safety applications and the opportunity to package those with other offerings to provide great value to our customers.
ORLANDO, Fla. (PRWEB) October 30, 2008
"Rave Wireless is a leader in mobile safety applications and the first emergency notification vendor to implement a direct SMS bind to our network," said Dave Fredericks, National Director for Products Solutions and Planning for T-Mobile. "We're excited about Rave's suite of mobile safety applications and the opportunity to package those with other offerings to provide great value to our customers."
Rave Alert provides an easy and effective way to send broadcast or targeted text messages, email, recorded voice messages, RSS feeds and/or instant messages through AOL's AIM to notify your community of important announcements. Rave Alert routinely outperforms other emergency notification platforms because Rave Wireless has taken steps such as direct SMS binds and redundant connections to ensure that all alerts reach their intended recipients in a timely manner. Many institutions including Boston College, the University of Colorado at Denver and the University of Connecticut have recently switched from other emergency alerting platforms to Rave Alert for its superior performance and reliability.
The Higher Education Act (HR-4137) recently signed into law by President Bush states that higher education institutions must have procedures to "immediately notify the campus community upon the confirmation of a significant emergency or dangerous situation involving an immediate threat to the health or safety of students or staff occurring on the campus."
Rave Guardian provides peace-of-mind and increased security by transforming users' mobile phones into personal safety devices. The phone-accessed application can be armed, and when triggered, automatically sends the user's picture, mobile number and personal information to campus police. Rave Guardian works on any cell phone from any provider in the U.S.
About T-Mobile USA, Inc.
Based in Bellevue, Wash., T-Mobile USA, Inc. is the U.S. operation of Deutsche Telekom AG's Mobile Communications Business, and a wholly owned subsidiary of T-Mobile International, one of the world's leading companies in mobile communications. By the end of the second quarter of 2008, 125 million mobile customers were served by the mobile communication segments of the Deutsche Telekom group — 31.5 million by T-Mobile USA — all via a common technology platform based on GSM, the world's most widely used digital wireless standard. T-Mobile's innovative wireless products and services help empower people to connect to those who matter most. Multiple independent research studies continue to rank T-Mobile among the highest in numerous regions throughout the U.S. in wireless customer care and call quality. For more information, please visit http://www.t-mobile.com. T-Mobile is a federally registered trademark of Deutsche Telekom AG.
About Rave Wireless
Rave Wireless (ravewireless.com) is the leading provider of safety applications for mobile users. Rave builds, sells and supports the award-winning Rave Alert, Rave Guardian and Rave Transit products that deliver the only complete mobile safety solution with inbound and outbound emergency alerting, personal mobile alarm service, and shuttle bus tracker. Rave builds upon its strong foundation in mobile phone safety products to deliver Rave Campus, a complete suite of academic, safety, community and social applications specially designed for students' mobile phones. Colleges and universities nationwide rely on Rave Wireless and have won the Jeanne Clery Campus Safety Award and the Campus Technology Innovators Award for their Rave implementations. Rave Wireless is headquartered in Framingham, Massachusetts. Investors include Bain Capital Ventures, Sigma Partners, and RRE Ventures.