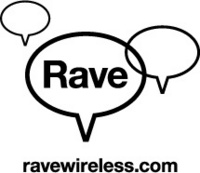 ORLANDO, Fla. (PRWEB) October 28, 2008
Rave Wireless, which is now experiencing demand for its campus safety applications from other vertical markets such as government and utilities, will benefit from the global use of BlackBerry smartphones, and will work with RIM's sales groups to market Rave Wireless' solutions within higher education and other vertical markets.
Marketing efforts will kick off this week at the EDUCAUSE Annual Conference, where more than 4,000 information technology leaders from colleges and universities are gathered. Rave Wireless is a market leader in providing mobile safety applications to higher education, with a long list of college and university clients nationwide including American University, Colorado State University, Duke University, Fairleigh Dickinson University, Indiana State University, Quinnipiac University, University of Kansas, University of Louisville, University of South Florida, and many more. Many institutions have recently switched to the company's Rave Alert emergency notification system for its superior performance and reliability, while others institutions such as the University of North Carolina at Chapel Hill have recently launched the Rave Guardian personal mobile alarm.
BlackBerry ® smartphone users and Rave customers will benefit most from the deeper product integration between Rave's applications and the BlackBerry platform including:
The ability for organizations to use the Rave Alert system to send emergency notifications to BlackBerry smartphone users via PIN messaging. A PIN uniquely identifies BlackBerry smartphones on the wireless network. By sending alerts via PIN message, administrators can track who has received and opened the messages. This new delivery mode will join text messaging, email, RSS and recorded voice messages as ways to send notifications through Rave Alert, further increasing broadcast alert deliverability and accountability. The ability for police officers and other first responders to monitor Rave Guardian personal mobile alarm cases on their BlackBerry smartphones. Rave Guardian is a phone-accessed application that can be armed, and when triggered, automatically sends the user's picture, mobile number and personal information to campus police. Rave Guardian works on any cell phone from any provider in the U.S., and in many cases can even display the user's GPS location on a map for campus police or other first responders to provide assistance more quickly. Soon, police officers will be able to access Rave Guardian cases via their BlackBerry smartphones, enabling faster and more effective incident response in a variety of time-sensitive situations. About Rave Wireless
Rave Wireless (ravewireless.com) is the leading provider of safety applications for mobile users. Rave builds, sells and supports the award-winning Rave Alert, Rave Guardian and Rave Transit products that deliver the only complete mobile safety solution with inbound and outbound emergency alerting, personal mobile alarm service, and shuttle bus tracker. Rave builds upon its strong foundation in mobile phone safety products to deliver Rave Campus, a complete suite of academic, safety, community and social applications specially designed for students' mobile phones. Colleges and universities nationwide rely on Rave Wireless and have won the Jeanne Clery Campus Safety Award and the Campus Technology Innovators Award for their Rave implementations. Rave Wireless is headquartered in Framingham, Massachusetts. Investors include Bain Capital Ventures, Sigma Partners, and RRE Ventures.
The BlackBerry and RIM families of related marks, images and symbols are the exclusive properties and trademarks of Research In Motion Limited.