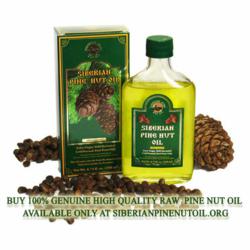 We recommend pine nut oil as a great addition to a raw meal that will add flavor and additional nutrients to the recipe.
New York, NY (PRWEB) May 29, 2013
PineNutOil.Org, the industry leader in manufacturing and distributing pine nut oil around the world, issued a statement today listing pine nut oil as an official addition to the raw foods diet.
Pine nut oil benefits include that it is organic, natural and a raw ingredient that can be added to any raw foods to provide an additional boost in flavor, taste and nutrition. The announcement issued from PineNutOil.org is letting those living a raw lifestyle, attempting a raw foods diet or considering partaking in the raw foods trend know that pine nut oil should be a part of the ingredients used on a regular basis throughout their diet.
Raw foods are becoming more and more prevalent in today's culture. People are experimenting with raw food recipes and choosing to eat as much food raw as they can in order to lead healthy and energetic lifestyles. Raw veganism is one of the purest forms of the raw food diet, consisting of unprocessed raw plant foods that have not been heated above 40 degrees Celsius.
Nuts are a main component of the raw food diet menu, along with raw vegetables, raw fruits, seaweed, sprouts, while grains, beans, dried fruits and raw dairy products. Most raw food consumers do not cook using a traditional stove or oven, they use food dehydrators to help dry out the food and add crunch or differentiation to the items they are consuming. Pine nut oil is primarily used as a finishing oil to add the extra boost to a meal; it is not typically used in the cooking process, so it lends itself perfectly to the raw food menu.
The CEO of PineNutOil.Org, Victor Rod, states, "Our pine nut oil is created using a cold pressing technology, there is no cooking involved and it is pure oil directly from the pine. We recommend pine nut oil as a great addition to a raw meal that will add flavor and additional nutrients to the recipe."
Siberian Pine uses an old technology to produce a product that is just as useful in modern times. The pine nuts used to create their oil are harvested in the wild and gathered only in ecologically pure regions of the taiga. The oil is create from true Siberian pine trees and is pressed using the ancient cold pressing technology, just as it has been done throughout history.
For more information about Siberian Pine, inquiries or purchases visit http://www.pinenutoil.org or call 248-218-0888.
About Siberian Pines:
The Siberian Pines Company has been a leading producer and supplier of Siberian pine nut oil since 2003. Siberian Pines produces high quality 100% cold-pressed pine nut oil and supplies it worldwide. They maintain the highest quality product and service by managing the process from the collection of Siberian pine nuts, to the production of the oil and delivering it to your front door.