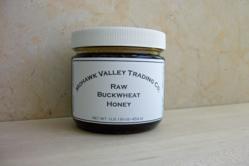 New York, NY (PRWEB) September 13, 2012
The Mohawk Valley Trading Company would like to announce that their Raw Buckwheat Honey is now available in 1lb glass jars for $10.00 each.
This is raw honey; it has not been heated, filtered, blended or processed. All of the pollen, enzymes, propolis, vitamins, amino acids, antioxidants, minerals and aromatics are in the same condition as they were in the hive. It is of such high quality that for the past several years, one customer has bought all they can produce in advance.
Mohawk Valley Trading Company raw honey is used and recommended by one of by the world's most recognized chefs; Tom Colicchio, founder of Craft and Colicchio & Sons restaurants and head judge on the Bravo reality TV show Top Chef:
"If you're looking for really great honey, here's my first piece of advice to you: You're unlikely to find it in a plastic squeeze bottle shaped like a bear.
My second piece of advice: Try these raw honeys from Mohawk Valley Trading Company. Raw honey is unfiltered, unheated and totally unprocessed, and contains all of the same pollen, live enzymes, vitamins, antioxidants, minerals, aromatics and amino acids that it had while still in the hive. I'm told that raw honey has all kinds of health benefits, but I love it because I think it tastes exactly as honey should and has a wonderful, spreadable consistency and a slightly crunchy, substantial texture.
Not only do we use raw honeys from Mohawk Valley Trading Company at Craftbar, 'wichcraft and Colicchio & Sons, but I keep a jar of the stuff on my desk at all times."
About Buckwheat Honey
Buckwheat honey has a deep, dark brown color, pungent, strong molasses like earthy flavor and recent studies have shown it to be more effective than over-the-counter cough syrup for treating a cough. The health benefits of buckwheat honey are many and well known. However, if you are planning to buy buckwheat honey for its health-benefits, it must be raw buckwheat honey because it has not been heated or filtered.
Heating honey (pasteurization) destroys the all of the pollen, enzymes, propolis, vitamins, amino acids, antioxidants, minerals, and aromatics. Honey that has been heated and filtered is called commercial, liquid or regular honey.
The reason some honey is heated is that the majority of Americans prefer the convenience of being able to spoon, pour or squeeze honey from a bottle onto their cereal or into their tea.
In addition, commercial honey is clearer, easier to measure or spread than raw honey and many people think that honey that has crystallized is spoiled so they discard it. Honey that has been heated and filtered will not crystallize as fast as raw honey. Therefore we also offer regular buckwheat honey for those who prefer it.
Buckwheat is neither a grass nor wheat, but is a fruit related to rhubarb it was one of the first crops cultivated in the United States. Dutch colonists brought buckwheat to North America where they planted it along the Hudson River. Buckwheat was sometimes called beech wheat, because its seeds look like small beech nuts.
Buckwheat was an important crop in the U.S. until the demand declined in the 1960's. Buckwheat honey is not a widespread honey and finding it locally may be difficult because today, buckwheat is primarily grown in the northern states.
Buckwheat seeds are also used or making gluten free flour and buckwheat blossoms are an excellent source of nectar and blooming can continue well into the autumn.
Buckwheat hulls are used as filling for pillows and meditation cushions. The hulls are durable and do not conduct or reflect heat as much as synthetic fills and they are an excellent substitute to feathers for people with allergies. However, buckwheat hull pillows made with uncleaned and unprocessed hulls contain high levels of allergens that may trigger an asthma attack in those who are at risk.
About Honey
Honey has been used by humans since ancient times for its health benefits and as a sweetener and flavoring for many foods and beverages. Next to maple syrup, it is the most popular natural sweetener in North America. The flavor and color of honey is determined by the type of flower the bees gather the nectar from. Dark colored honey is considered to be higher in minerals and antioxidants than light colored honey and one of the most well known dark colored honeys is buckwheat honey. Raw buckwheat honey contains a higher amount of minerals and an antioxidant called polyphenol, which gives it its dark color.
Since the flavor and color of honey is determined by the type of flower the bees gather the nectar from, it is a good idea to taste the honey before using it in a recipe. For example; a dark honey like buckwheat honey will result in a strong, heavy, a pungent flavor, whereas orange blossom honey will result in a delicate orange flavor.