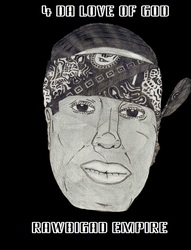 Never take advice from someone whose afraid to live life. Trust in GOD, be real about yourself, and never stop believing.
Tyler, TX (PRWEB) February 3, 2011
New found record label "Rawbigad Empire" is becoming a corporation, and owner Rawbigad does not plan on stopping there.
Listen to Rawbigad
http://rawbigad.mymusicstream.com
Rawbigad is a Texas Hip-Hop recording artist, CEO, & entrepreneur. He looks to bring his own influence to the world in ways no artist ever has. Rawbigad Empire was founded on February 15, 2010 as a sole proprietorship. Rawbigad can be found in the "Rose Capital of the World" -- Tyler, Texas. Music has always been his dream. Recalling his younger days, Rawbigad states he couldn't keep his hands off of instruments. He played in both the orchestra and band. He owns a violin and is learning the piano to make the most original music possible. Rawbigad feels school has allowed him to invest in his self with the student loans he receives each semester for keeping his grades up and meeting his school's requirements, along with his strong fellowship in church, his self-study of the world along with himself, and his faith in GOD.
After one year of being in business, Rawbigad is looking ahead to expand his empire. "The studies in my pursuit of a business degree has taught me to corporate my business to better protect my investment. When making serious decisions I ask myself, 'How much do I want this?', and I want my record label. I look to do what's best for my label at all times, going after the best equipment, and learning every aspect of music from production to videos, and promotions & marketing. I don't expect to have a label that fades, but one that has a strong foundation. This is my dream and I don't plan on waking up from it. Rawbigad Empire." --Rawbigad
Rawbigad on itunes
http://itunes.apple.com/us/artist/rawbigad/id341018708?ign-mpt=uo%3D4
###