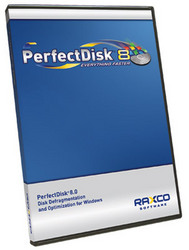 Adding PerfectDisk's complete disk defragmentation, free space consolidation and drive optimization is great way to introduce new PC owners to the benefits of professional defragmentation software
Bellevue, WA; Gaithersburg, MD (Vocus) October 9, 2007
Laplink Software, the leading supplier of PC migration software, and Raxco Software, a best seller in disk defragmentation software, have announced a partnership to enhance PC migrations for all new PC buyers. Once PCmover completes a move into a new PC, Raxco's PerfectDisk® will help keep the PC running at optimal speed & efficiency by defragmenting and organizing its drives. Laplink and Raxco expect this to be of great service to PCmover users and have bundled free 30-day evaluation copies of PerfectDisk® with all PCmover purchases.
PCmover is the undisputed market leader in PC migration, with over 70% of the market share in its category and a 25-year history of innovation in PC connectivity. PCmover allows a user to selectively move all applications, files and documents from an old PC to a new one – saving time, money and avoiding hassle. Studies show that PCmover migrations can save companies over $300 for each PC moved.
"Adding PerfectDisk's complete disk defragmentation, free space consolidation and drive optimization is great way to introduce new PC owners to the benefits of professional defragmentation software," explained Emir Aboulhoson, Vice President of Global Marketing and Communications at Laplink Software. "Ensuring users' drives are in an optimal state allows the new PC to perform faster and continue running like new. As the preferred disk defragmenter for consumers, small businesses and enterprises around the world, PerfectDisk was a natural fit for us."
PerfectDisk is recognized as the worldwide leader in disk defragmentation and optimization, serving many of the world's largest enterprises and millions of small businesses and consumers around the world. Its patented SMARTPlacement™ optimization strategy and exclusive Space Restoration Technology™ provide the fastest and most complete defragmentation of drives available.
"We're excited to enter into this partnership with Laplink Software and help PCmover build on its market leadership position," said Richard Moskowitz, Vice President of Sales at Raxco Software. "Our companies' shared core values of unsurpassed quality, technological leadership, and exemplary customer service makes this a partnership that should bring great value to PCmover users around the world."
PCmover is available at major electronic retailers as well as online at http://www.laplink.com or can be ordered directly by calling 1-800-LAPLINK.
About Laplink Software
Laplink specializes in PC migration, file transfer, remote access and synchronization solutions that simplify connectivity for business and home users. Whether you need to migrate to a new PC, transfer large files, remotely control and access your computer, share files, keep devices synchronized or back up data, Laplink offers an easy and secure application to do the job. The privately held company was founded in 1982 and is headquartered in Bellevue, Washington with offices in Canada and Europe.
About Raxco Software
Raxco Software has been helping large enterprises, small businesses, and consumers with their computer resource management needs for more than twenty-five years. Its PerfectDisk is Windows® Certified by Microsoft®, and optimized for Windows XP. The PerfectDisk line has a long award-winning history, most notably its perfect 5-star review from CNET Download, winner of the Windows IT Pro 2005 and 2006 Readers' Choice Awards for Defragmentation Utility and Storage Management Tool, Redmond Magazine's Best of the Best Award for 2005, and PC Magazine's Editors' Choice award for the past two years. In addition to its PerfectDisk line, Raxco also produces PC optimization software, including system recovery and disk repair products for Windows operating systems and HP's OpenVMS operating system. Raxco Software can be found on the Web at http://www.raxco.com.
Contacts:
Sherry Murray
Raxco Software, Inc
301-519-7836
Aarti Vaid
Laplink Software, Inc.
604-681-2107
Copyright 2007, Raxco Software, Inc. All rights reserved.
PerfectDisk, Space Restoration Technology, and SMARTPlacement are trademarks or registered trademarks of Raxco Software, Inc. Windows and Microsoft are trademarks or registered trademarks of Microsoft Corporation. All other trademarks or trade names are the property of their respective owners.
###