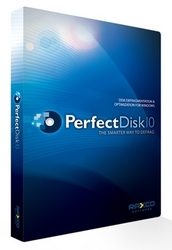 We're pleased to once again earn certification for Microsoft's latest operating systems
Gaithersburg, MD (Vocus) February 3, 2009
Raxco Software, the leader in disk defragmentation software, today announced that its PerfectDisk® disk defrag and optimization utility has achieved Microsoft® certification for Vista, Windows Server® 2008 and Hyper-V™. Microsoft's certification tests are comprised of hundreds of requirements to ensure applications perform to the highest standards of operating system compatibility, functionality and reliability.
Microsoft states that "only Certified for Windows Vista® software have undergone Microsoft compatibility tests for ease of use, better performance and enhanced security in Vista." Similarly, only applications that "meet Microsoft standards for compatibility and best practices with the Windows Server 2008 operating system and Hyper-V can earn the Certified for Windows Server 2008 and Hyper-V certifications."
"We're pleased to once again earn certification for Microsoft's latest operating systems," said Joe Abusamra, vice president of operations of Raxco Software. "Our customers expect and demand PerfectDisk 10 to meet the highest levels of quality, performance and security, and these certifications are part of that assurance we give our users.
About Raxco Software
Raxco Software has been the industry leader in helping large enterprises, small businesses, and consumers with their computer resource management needs for over 30 years. Its PerfectDisk 10 is Certified by Microsoft® for Vista, Windows Server® 2008 and Hyper-V. PerfectDisk products have a long history of winning the industry's highest awards, most notably its perfect 5-star review from CNET Download, winner of the Windows IT Pro Readers' Choice Awards for Defragmentation Utility and Storage Management Tools, Redmond Magazine's Best of the Best Award, and PC Magazine's Editors' Choice Award. Raxco also produces optimization software, for HP's OpenVMS operating system. Raxco Software can be found on the Web at http://www.perfectdisk.com.
Contacts:
Sherry Murray
Raxco Software, Inc
301-519-7836
###