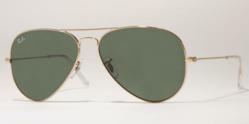 We're hoping to bring this great brand to a wider audience by making Ray-Ban more accessible and affordable to people on an international level - Josh Heller
Phoenix, AZ (PRWEB) August 21, 2012
Millions have seen the limited edition, London-themed Ray-Ban Wayfarer sunglasses on athletes and celebrities alike at the Olympic games. Now anyone can own a pair of similar, classic Ray-Ban Wayfarer glasses, thanks to SimplySunglasses.com.
Simply Sunglasses, an online sunglasses vendor that sells name brand sunglasses at discount prices, has become an official distributor of Ray-Ban sunglasses. This exciting development brings the wide range of Ray-Ban sunglasses to SimplySunglasses.com for the first time.
"We're excited to offer Ray-Ban sunglasses," said Josh Heller, customer relations specialist at SimplySunglasses.com. "We're hoping to bring this great brand to a wider audience by making Ray-Ban more accessible and affordable to people on an international level."
As an official distributor, Simply Sunglasses now offers the full line of Ray-Ban sunglasses available on the market, carrying over 250 styles. From traditional aviators to pink-lens wayfarers, Ray-Ban offers some of the most stylish as well as the most durable designer sunglasses on the market. For these reasons, Ray-Ban is, and continues to be, the number one brand of sunglasses sold at SimplySunglasses.com and worldwide.
All Ray-Ban sunglasses and other designer brands sold through Simply Sunglasses will be direct from the manufacturer. There will be no middleman involved, and each pair of sunglasses comes with a certificate of authenticity to ensure quality and accuracy of purchase. Additionally, shipping on Ray-Bans will be offered worldwide for low rates or free within the United States.
As a new distributor of Ray-Ban sunglasses, Simply Sunglasses is sharing the excitement by offering an exclusive coupon code for 15% off all Ray-Ban sunglasses purchases.
To take part in the promotion, simply visit SimplySunglasses.com, choose a pair of stylish Ray-Ban glasses, and apply discount code rayban15 at check out.
Simply Sunglasses guarantees that customers love their new Ray-Ban sunglasses. If not? Return them or exchange them for a different pair.
For those who want designer brand sunglasses but can't afford the huge price tag, SimplySunglasses.com offers the option of the latest fashions at a price that is affordable.
For more information, contact:
Josh Heller – Customer Relations
1-877-234-4001
service(at)simplysunglasses(dot)com
SimplySunglasses.com
SIMPLY SUNGLASSES is proud to serve as a top vision specialist, offering name brand and designer sunglasses at a fraction of the cost. All sunglasses from SimplySunglasses.com come with a degree of authenticity, 100% UV protection, and high quality glasses that one would expect from top quality brands. Visit today to find designer frames at discount prices.