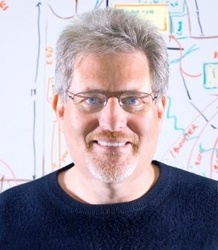 After four successful years of developing our USP laser platform, bringing the technology to market and establishing a solid client base, we are very excited that Mel is joining Raydiance to lead us through our next phase of growth
PETALUMA, Calif. (PRWEB) May 14, 2008
Prior to joining Raydiance, Engle was President and CEO of the Merck KGaA subsidiary Dey LP, a Napa-based specialty pharmaceutical company focused on the development and commercialization of products for respiratory, allergy and other breathing disorders. Engle was instrumental in transforming Dey's business strategy from the development of commodity generics into branded products, which resulted in five consecutive years of growth with an increase in sales from $250 million in 2002 to over $600 million in 2007.
Raydiance Positioned for Rapid Growth
"After four successful years of developing our USP laser platform, bringing the technology to market and establishing a solid client base, we are very excited that Mel is joining Raydiance to lead us through our next phase of growth," said Mr. Schuler. "Mel is a consummate operating executive with a very strong track record of rapidly scaling up new companies. His experience will be instrumental in growing our infrastructure, supporting more product development and expanding our customer and employee base. I am delighted to be teaming with Mel and look forward to a successful future working together."
"Raydiance not only has developed a truly revolutionary technology platform that promises to disrupt countless industries, but also is experiencing a very exciting and substantive period of growth," said Mr. Engle. "Given the intense interest in Raydiance's USP laser platform and the Company's rapid expansion over the past year, I'm highly confident in our prospects for continued growth and success in the coming years. I look forward to working with Raydiance's impressive leadership team, board of directors and talented employees to continue Barry's vision of bringing the world into the light age."
Since launching its first product last year, the company's easy-to-use USP platform has spurred an explosion of applications research and development. Raydiance Discovery™ systems are now in use across the U.S., in Europe and Japan. This includes the FDA, which is testing the Raydiance laser platform in efforts to destroy malignant cancer cells, and commercial partners that are developing new applications for dermatology, ophthalmology and alternative energy sources.
Raydiance also recently helped establish an economic development initiative in New Mexico sponsored by Governor Bill Richardson and the state's legislature. Several projects are currently underway at the state's research universities and the national labs to develop promising, high-growth ideas and applications based on the unique properties of Raydiance lasers that can be commercialized within New Mexico.
Engle Brings Strong Operating Experience
Simultaneous to serving as CEO of Dey LP, Engle was also Regional Director, North America for Merck Generics Group from 2006-2007. In this position, he was responsible for all of Merck Generic's North American businesses, including Dey LP, Genpharm, Inc. (Canada) and Genpharm, LP (US). He was responsible for sales in excess of $800 million and managed over 1200 employees. Additionally, Engle was a key member of the Merck Generics Executive Management Committee (EMC), where he shared worldwide responsibility for running this $2.5 billion division of Merck KGaA.
From 1980-1994, Engle was a senior executive with Allergan, Inc. where he held positions of CFO, Managing Director and Senior VP for Latin America/Canada and, later, US Sales. In 2007, Engle was named "Citizen of the Year" by the Napa Chamber of Commerce and the State of California.
About Raydiance, Inc.
Raydiance is a next-generation laser company that has integrated photonic, computing, and software technologies to create the world's first broadly enabling laser platform.
Raydiance's breakthrough technology brings "intelligent" control and small form factor to ultrashort pulse (USP) laser light—extremely brief and powerful light pulses capable of precisely vaporizing virtually any material without generating heat. By coupling software control and miniaturized hardware with its technology-as-a-service subscription model, Raydiance has made USP technology affordable, practical and easy to use for the development of revolutionary new applications spanning multiple industries.
Under the guidance of Raydiance founder Barry Schuler, former AOL Chairman and CEO, Raydiance has emerged as a fast-growth company and has taken an industry lead in building volume commercialization of this transformative technology. The Raydiance vision has been validated in the marketplace by early adopters across several application sectors, including cancer treatment, next-generation surgery, gene therapy, cosmetic applications, high value materials processing, nanotechnology, bioengineering, defense/security, and more. For more information, please visit http://www.Raydiance-Inc.com.
MULTIMEDIA GALLERY http://www.businesswire.com/cgi-bin/mmg.cgi?eid=5683603