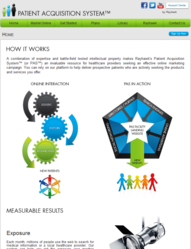 "Three months of exhaustive research lead to one simple conclusion: Rayhawk is peerless in its ability to promote healthcare firms and we are lucky to have them managing the rapid expansion of our brand," said Sam Solakyan, CEO, Vital Imaging.
Irvine, CA (PRWEB) May 31, 2011
Rayhawk Corporation, a leading provider in healthcare branding and online marketing, announced it has been chosen by Vital Imaging, Inc. to boost its online presence. In addition, the agency will be responsible for developing all Vital's branding and marketing strategies and implementing Rayhawk's unrivaled Patient Acquisition System™ (or PAS™).
Prior to selecting Rayhawk as its agency of name, Vital Imaging's executive team conducted a thorough review of competing firms. "Three months of exhaustive research lead to one simple conclusion: Rayhawk is peerless in its ability to promote healthcare firms and we are lucky to have them managing the rapid expansion of our brand," said Sam Solakyan, CEO, Vital Imaging.
"Vital Imaging is a tour de force in Kinetic Imaging™ and medical diagnostics," said Raihan Haque M.D., Principal, Rayhawk Corporation "We are extremely proud to help spread Vital Imaging's message to the medical-legal community. What Vital Imaging has committed to do is truly revolutionary in the radiology industry."
Rayhawk will upgrade and enhance Vital Imaging's online presence by deploying its latest Patient Acquisition System™. The Patient Acquisition System™ delivers interactive features, such as employee portals for e-learning, online patient scheduling, and advanced search engine optimization. Rayhawk's Patient Acquisition System™ has become an invaluable resource for healthcare providers. Vital Imaging is making a strategic investment in its brand equity by employing Rayhawk Corporation.
"We are excited to create a unique online space for Vital Imaging's brand in the marketplace," added Claudio Nunez, Lead Web Developer. "We understand their innovative position in the medical diagnostic arena and are eager to help Vital Imaging market their premier products and services."
Vital Imaging selected Rayhawk Corporation for their renowned ability to strategically position the company to attract a substantial body of steady online traffic. Due to Rayhawk's masterfully engineered content, Vital Imaging will enjoy a competitive advantage in the medical diagnostics field.
"We are delighted to be working with Vital Imaging," says John Nguyen, Project Manager, Rayhawk Corporation. "By completely renovating their website, Vital Imaging will position itself to generate greater growth in the online medical-legal community. Rayhawk has the expertise to accelerate Vital Imaging's upward trajectory in brand growth. Deploying our latest Patient Acquisition System™ will allow Vital Imaging to recognize measurable results".
Rayhawk offers its clients proven and effective branding strategies backed by research and results. Consistently, Rayhawk surpasses competitors by providing unique and customized world class design concepts. Utilizing Rayhawk's effective brand management services ensures an unprecedented impact on Vital Imaging's success.
Today, companies must ask not only: how should we reach our customers, but also how should our customers reach us? The services developed by Rayhawk, enhances its client's ability to promote themselves with captivating campaigns that have found enthusiastic acceptance in many industries. With Rayhawk's targeted campaigns and masterfully designed Patient Acquisition System™, its clients see an increase in online visitors and overall brand exposure. Rayhawk is dedicated to propelling brands to new heights and the firm's solid brand management approach delivers quantifiable business results.
Rayhawk sculpts its campaigns and messages to be delivered in an engaging and attractive way. Properly designed and executed online marketing ventures can improve brand equity, deliver sales, and increase profits. The main advantage of Rayhawk's Patient Acquisition System™ is that a precise and valuable audience can often be reached in a cost-effective manner.
In this age of online marketing, a company's website has rapidly become the pulse center for business. A company's website is a powerful resource in forging a stronger relationship with customers. Effective brand management produces a powerful and consistent message which creates a positive impact on sales. Vital Imaging bestowed this responsibility on Rayhawk to unify the company's image utilizing the Patient Acquisition System .
About Rayhawk Corporation
Rayhawk is a privately held company located in Southern California that is dedicated to creating state-of-the-art, high impact advertising campaigns. The company includes highly qualified brand developers, graphic designers, and special effects wizards that collectively work to re-define the future of marketing. Rayhawk has consistently been tasked with developing online campaigns for several Fortune 500 clients. Rayhawk clients look to stand out in a crowded market. For additional information please visit: http://www.rayhawk.com.
###