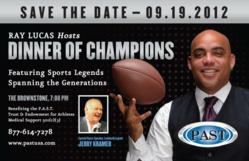 They have lifted me up out of a very dark place and I know because of P.A.S.T. I will once again be able to function and be a great husband and father. -Ray Lucas
Paterson, NJ (PRWEB) September 19, 2012
When: Wednesday, September 19th, 9:00pm
Where: The Brownstone, 351 West Broadway, Paterson, New Jersey 07522
What: A group of over 20 retired NFL, NBA and MLB players spanning the generations, many who are suffering from significant concussion and addiction issues will host a dinner presentation that will focus on their serious post career issues. They will also provide details about the expansion of a pro bono concussion treatment program for retired players and unveil a new concussion education program for high school athletes.
Jerry Kramer who founded the first retired NFL players support group will step into the forefront once again to raise awareness about retired player's issues and discuss medical and behavioral health advances being used to successfully treat retired NFL players especially those who suffer from concussions and addiction. Kramer will be joined by retired athletes from multiple sports and medical specialists for a hard hitting, emotional and eye opening forum.
Who: Retired players that are patients of The P.A.S.T. Retired Athletes Medical Group, the NJ based charitable medical organization that has provided $4 million dollars in medical to retired athletes and others who support the organization: Jerry Kramer, Ray Lucas, Tiki Barber, Carl Banks, Joe Klecko, Dave Robinson, Christian Okoye, John Starks, Earl Monroe, Charles Smith, Vin Baker and others will be there in support. P.A.S.T. medical specialists that have developed a cutting edge addiction and concussion treatment program for retired NFL players and other athletes will also participate.
*Athletes will be available to the media. Members of the media will have the opportunity to attend the presentation and forum which will include retired NFL players who are currently dealing with significant concussion and addiction related issues and the physicians who are treating them.
Credentials: Media credentials must be requested and approved in advance through the P.A.S.T. Retired Athletes Medical Group via email at Jennifer(dot)past(at)gmail(dot)com or by calling (877) 614-7278 or Loy Edwards at (973)572-2226.
Additional information:
P.A.S.T. programs are created specifically and personally for retired professional athletes to address their unique and distinct set of medical and personal needs. The P.A.S.T. philosophy is to treat the whole person, mind and body, while also emphasizing and providing education and preventive care for retired players of all ages.The same P.A.S.T. Physician group that treats retired athletes also offers treatment programs for the general public on a limited basis.
P.A.S.T is located at: 999 Clifton Avenue, Clifton, New Jersey 07013 Phone:877-614-7278