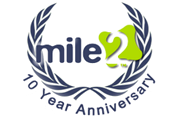 The firewall is also capable to delivers complete Internet security as well as high-bandwidth internet access through a choice of WAN connections-built-in Ethernet ports, an optional VDSL modem module, or a qualified 3G USB dongle
Florida (PRWEB) November 20, 2012
Mile2, an internationally recognized cyber security training academy, which has been training professionals since a decade is now offering courses for Netgear's VDSL application. The ProSecure UTM25S unified Threat Management Firewall has brought to information security world by NETGEAR. This newly announced version is more powerful version of VDSL application firewall, which provides two modular slots that fit optional interface cards, allows IT administrators to custom-tailor the firewall to their specific connectivity requirements.
The UTM25S integrates with NETGEAR Ready NAS network-attached storage systems provide unlimited activity log to businesses and quarantine capacity for forensic, regulatory and legal requirements. This firewall can be called a comprehensive security solution, declared to provide enterprise-grade security protection have incorporated batch-based methods to scan incoming high-latency data, which can slow Web browsing to a crawl.
The firewall is also capable to delivers complete Internet security as well as high-bandwidth internet access through a choice of WAN connections-built-in Ethernet ports, an optional VDSL modem module, or a qualified 3G USB dongle. It also offers a wireless-N access point module and is a best-in-class UTM firewall gateway recommended to support up to 25 users. mile2 and Raymond Friedman, together they can assist anybody to learn such parameters.
"Organizations looking to shift from a standard firewall to a UTM application firewall solution can better have this firewall version. The ProSecure UTM25S extensively extended the security of a network without the normally associated vendor complexity or costs and to address this, many of these solutions attempted to overcome this challenge by scanning only a select few malware file types, or by avoiding Web scanning altogether, which opened up networks to malware-based attacks. NETGEAR ProSecure UTM S solutions address this issue with the patented Stream Scanning platform, which analyzes data streams as they enter the network." said Raymond Friedman, Director at mile2.
Peter Newton, senior director of product management for the Commercial Business Unit of NETGEAR said that "Because of the rapidly increasing quantity of latency-sensitive Web traffic, combining enterprise-grade security into a traditional all-in-one firewall platform has proven a daunting challenge, so we developed the UTM25S as a direct result of customer feedback. It fills a strategic gap for customers that require all of the features of our UTM9S appliance, but have a higher volume of Internet traffic to manage."