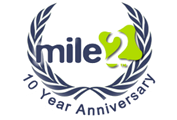 It is our goal to get this offer known to as many needed vets and state police agencies possible.
Tampa, FL (PRWEB) December 14, 2012
Every year, in remembrance of the major turning point in US's history on September 11th, 2001, mile2 offers free training and exam certification to both military veterans and state police agencies. Mile2 also provide free services to qualified charitable organizations such as discounted or free security assessments. Mile2 presently supports Internet Crimes against Children and Hackers for Charity under Johnny Long's school in Africa. CEO of mile2, Ray Friedman, himself comes from a military back ground where his father and grandfather served the military and presently one of his brothers is in the Air Force Academy while the other is a Major in the Air Force as a Director of Operation in the Air Force Special Operation Command.
Speaking on this free training program, Ray Friedman, CEO of mile2 stated, "It is our goal to get this offer known to as many needed vets and state police agencies possible. We realize that there is a shrinking budget for many police departments who aren't getting the training they need to fight these online predators. And with many of our war vets coming back, they need more help than ever to get back into the work force. This is just one more thing we can do to help out our community which has given so much to us".
Some Testimonials:
"I have finally been able to start the CPTE Course…I have only been through a couple modules and already like what I see... So far it looks like your program is the best I have seen and wanted to thank you again… I am looking forward to the exposer and knowledge I will gain, and hopefully be able to gain a career in this field, as my main plan of LE is no longer attainable due to my disability. So again I wanted to just thank you."
J.D., US Military Veteran
"You guys at mile2 are awesome. Thank you for offering this course in a time when budgets are tight. Your C)DFE modules helped me tremendously last year with my job in Law Enforcement. With businesses like yours and what you do for the Military and Law Enforcement epitomizes the definition of partnership and teamwork."
Detective PI, Florida Police Dept.
"I am a sworn local LE Digital Forensics Examiner that is part of an ICAC (Internet Crimes Against Children) team working for a department with limited resources. This class C)DFE will improve my skill set to use in the fight against online child exploitation. Thank You!"
Detective C, Florida Police Department
"This course will provide me a broad knowledge of computer systems that will enhance my ability to investigate the array of economic and child crime investigations at my department. The fact that a company is willing to provide something, C)ISSO, so advantageous in today's world with our budget's, is invaluable and true testament to your understanding of the need for this sort of training".
Detective D.P., Florida Police Dept
Mile2 and Raymond Friedman are aimed at providing Cyber Security training and consulting services that meet military, government and corporate specifications. Ray Friedman, CEO of Mile2 has spearheaded the development of the present series of Mile2 certifications which have become globally recognized by Militaries worldwide. Presently, Raymond carries several certifications and advanced degrees such as the Master of Science in Accounting, the Certified Information Systems Security Officer, Certified Penetration Testing Engineer and Certified Digital Forensics Examiner.
About the company:
Mile2® was developed in response to the threat of corporate and national information security attacks in the aftermath of 9/11. Being a globally respected IT security organization, mile2®, focuses on security training for national and corporate entities who understand the value of "knowing your enemy." By training businesses and organizations to think like an attacker, mile2® helps clients ensure that their intellectual property and data remain secure. Mile®2's overarching goal is to establish and contribute to a universal standard that has been adopted by government, military and corporate organizations whose intellectual property, secrets and infrastructure assets are significant strategic targets for entities with malicious and criminal intent. To learn more visit http://www.mile2.com/