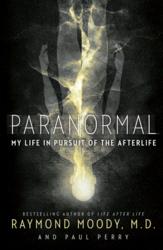 San Francisco, CA (PRWEB) February 07, 2012
The concept of the near-death experience—one's life flashing before one's eyes, seeing a white light at the end of a tunnel, encountering loved ones waiting on the other side—is familiar to most of us.
But many don't know that Raymond Moody is the man responsible for introducing this phenomenon to the mainstream, and in the process, completely changing our views on death and dying. In Paranormal: My Life in Pursuit of the Afterlife(HarperOne; February 2012), the pioneering researcher reveals how he became the first doctor to extensively study and eventually unveil this previously unknown experience of the near-death experience to the general public. From his childhood curiosity about the soul to his academic exploration of philosophy, from his early research into the afterlife to the publication of the bestselling book Life After Life, Moody's entire life has been devoted to a deeper understanding of what comes next—and to exploring better ways for the living to encounter the dead.
In this fascinating account, readers will discover the surprisingly thin line between the living and the deceased—and why Moody's lifetime of scholarship shows that we have evidence for our deepest hopes: that our existence continues beyond this life.
Raymond Moody, M.D.'s seminal work, Life After Life, has sold over ten million copies and completely changed the way in which we view death and dying. He is widely acknowledged as the world's leading expert in the field of near-death experience.
Paul Perry is an internationally bestselling author who has co-written nine books on near-death experience.
Advanced Praise for Paranormal:
"Paranormal is the fascinating and heart-warming story of Dr. Raymond Moody's extraordinary life, chronicling the exciting journey that has given us some of the strongest evidence that life after death is a reality. I highly recommend it."
— Jeffrey Long, M.D., author of Evidence of the Afterlife
"Moody radically changed the way modern humans think about the afterlife. In Paranormal, he sums up his journey and shares fresh insights. The result is a thrilling and inspiring literary experience. Anyone who is not grateful for Moody's immense contribution to human welfare ought to check his pulse."
— Larry Dossey, MD, Author of Healing Words and The Power of Premonitions
"Moody's lifetime pioneering activities have been the major impulse for all later research that has been attributed to breaking the scientific and social taboo about near-death experiences, shared death experiences, and the possibility of contact with deceased relatives . . . He has helped millions of people to understand and accept these special states of enhanced consciousness, and by doing so he most importantly contributed to the general acceptance of the likelihood of an afterlife. In this open-hearted book he shares with us the many personal ups-and-downs he had to live through to fulfill his aim of life: helping people to understand that there is a continuation of consciousness after death."
— Pim van Lommel, author of Consciousness Beyond Life
"The personal story of Raymond's life before and during his pioneering research into what happens at the point of death—once again expertly written by Paul Perry—will help every reader better understand their own search for the same answers."
— Dannion Brinkley, author of Secrets of the Ligh
PARANORMAL: My Life in Pursuit of the Afterlife
By Raymond Moody and Paul Perry
HarperOne, an Imprint of HarperCollinsPublishers
February 2012 | $25.99 | Hardcover | ISBN: 9780062046420
###