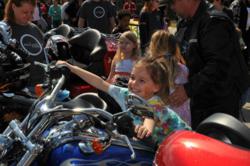 We get a kick out of seeing the smiles on kids' faces as we pulled up on our Harleys with Easter baskets, said Kris Weiss of Ray Price Harley-Davidson.
Raleigh, NC (PRWEB) March 31, 2013
From a fashion standpoint, Easter pastels may not mesh well with the black leather worn by Harley riders. But the two were a perfect match during Ray Price Harley-Davidson's "Easter Basket Ride," held over the weekend.
Throughout March, Raleigh area residents donated Easter baskets with goodies to share with local youth. Bikers from across the Triangle gathered this past Saturday to ride in caravan with the more than 350 Easter baskets, delivering them to children who gathered at Radiant Church in for its Easter celebration.
"The looks on kids' faces when 100 Harley riders arrived was terrific," said Kris Weiss, director of marketing and promotions, Ray Price Harley-Davidson. "Our riders get such a kick each year out of watching their jaws drop, and then turn into smiles, as we pull up with the Easter baskets."
During the Easter celebration, children were invited to pose for photos with riders and their motorcycles.
Radiant Church hosts its Easter egg hunt and celebration every year for children from neighboring communities. This is the second year in a row where more than 350 baskets were delivered to local kids in attendance.
"Easter is a celebration of renewal and hope," said Pastor Nathan Rouse. "We're thrilled to have the support of Ray Price Harley-Davidson for this fun event because it brings hope to so many children."
About Ray Price Harley-Davidson
Owning a Harley-Davidson motorcycle means owning a piece of American history, as the Harley-Davidson Motor Company celebrates its 110th Anniversary this year. Ray Price Harley-Davidson of Raleigh, N.C. has been a part of that history for the past 30 years, offering expert service from a staff with more than 600 years of combined Harley riding experience.
Ray Price Harley-Davidson is the Southeast's premier Harley-Davidson dealership. Winner of the 2012 "Top 10 Dealer Award" from Dealernews, Ray Price Harley-Davidson is committed to community philanthropy through nonprofit fundraising events such as the Easter Basket Ride.
Ray Price is best known for his many successes in motorcycle drag racing with the International Hot Rod Association, and National Hot Rod Association, among others. He has been inducted into the American Motorcycle Association Hall of Fame, the Sturgis Motorcycle Hall of Fame, and the N.C. Drag Racing Hall of Fame.
Radiant Church is a dynamic, spirit-led church situated on 62 acres in northeast Raleigh. Our vision is to serve the region as a thriving and reproductive community of believers who help people connect to God, to one another, and to our community. Located at 7000 Destiny Drive in Raleigh, the newly named Radiant Church was previously known as Raleigh Christian Community Church.