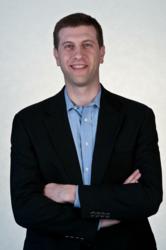 We are excited to have Andrew rejoin Razorfish in this new role because of his proven track record of delivering business results for clients
New York, NY (PRWEB) March 20, 2012
Razorfish, one of the world's largest digital agencies, has named Andrew Davidson, to the new position of Vice President, Search and Performance Marketing. In this role, Davidson will lead Razorfish's national search and performance marketing practice and help deliver the most advanced, agile, and holistic services to clients.
Davidson is charged with working firsthand with client teams to foster best practices and streamline efforts nationally. He will work to define the most productive processes, technologies, resources and team models to best service clients and differentiate Razorfish in the market. Davidson will report to Joe Mele, SVP of U.S. Media.
"We are excited to have Andrew rejoin Razorfish in this new role because of his proven track record of delivering business results for clients, " said Mele. "As the needs of our clients continue to grow, and the pace of technology increases daily in the performance media space, having a leader focused solely on how to leverage programmatic buying, deep data analysis, advanced attribution techniques, and automated ad delivery across our entire client base is a strategic imperative."
Davidson worked at Razorfish as a leader in the search practice until 2008. Most recently, he served as the Director of Search for North America at Neo@Ogilvy. Davidson graduated from Yeshiva College in New York with a BS in marketing and earned his MBA from Baruch College in 2006.
Davidson will be based in Razorfish's New York office and begin his new role on March 26, 2012.
About Razorfish
Razorfish, the highest ranked digital agency in Advertising Age's 2011 A-List, creates experiences that build businesses. As one of the largest interactive marketing and technology companies in the world, Razorfish helps its clients build better brands by delivering business results through customer experiences. Razorfish combines the best thought leadership of the consulting world with the leading capabilities of the marketing services industry to support our clients' business needs, such as launching new products, repositioning a brand or participating in the social world. Razorfish has offices in markets across the United States, and in Australia, Brazil, China, France, Germany, Japan, and the United Kingdom. Clients include Carnival Cruise Lines, MillerCoors, McDonald's and Starwood Hotels. With sister agencies Starcom MediaVest, ZenithOptimedia, Denuo and Digitas, Razorfish is part of Publicis Groupe's (Euronext Paris: FR0000130577) VivaKi, a global digital knowledge and resource center. Visit http://www.razorfish.com for more information. Follow Razorfish on Twitter at @razorfish.