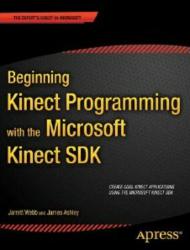 Our Razorfish Emerging Experience group has achieved great notoriety for the ground breaking applications we've developed on Kinect such as 5D, DaVinci Kinect, and Shop Kinect
New York, NY (PRWEB) February 28, 2012
Beginning Kinect Programming with the Microsoft Kinect SDK, a book by Razorfish's Emerging Experiences Group on developing Kinect applications for PCs using Microsoft tools and the official SDK, was released last week to great acclaim. Even before the official release date of February 23rd, the book, which is believed to be the first of its kind, had made Amazon's Hot New Releases list.
Published by Apress, Beginning Kinect Programming with the Microsoft Kinect SDK provides readers with the fundamental knowledge to have a working Kinect program by the end of chapter one. The following chapters open up the secrets of three-dimensional vision, skeleton tracking, audio through the Kinect, and more.
Written by Jarrett Webb and James Ashley, two members of Razorfish's elite Emerging Experiences team, the book is for developers who want to learn to program for the newest Microsoft input device. The manual assumes familiarity, but not expertise, with WPF and C#.
In addition to applications, Beginning Kinect Programming with the Microsoft Kinect SDK also provides building blocks and ideas for mashing up the Kinect with other technologies to create art, interactive games, 3D models, and enhanced office automation.
"Our Razorfish Emerging Experience group has achieved great notoriety for the ground breaking applications we've developed on Kinect such as 5D, DaVinci Kinect, and Shop Kinect," said Shannon Denton, President of Razorfish's Central Region and executive sponsor of the Emerging Experiences practice group. "So writing this book was a natural extension for us. And, the recent announcement of the timeline for Kinect's commercial license meant there would certainly be an eager audience."
A gateway into the exciting world of three-dimensional, real-time computer interaction, Beginning Kinect Programming with the Microsoft Kinect SDK is available on Amazon or wherever technical books are sold.
About Razorfish
Razorfish, the highest ranked digital agency in Advertising Age's 2011 A-List, creates experiences that build businesses. As one of the largest interactive marketing and technology companies in the world, Razorfish helps its clients build better brands by delivering business results through customer experiences. Razorfish combines the best thought leadership of the consulting world with the leading capabilities of the marketing services industry to support our clients' business needs, such as launching new products, repositioning a brand or participating in the social world. Razorfish has offices in markets across the United States, and in Australia, Brazil, China, France, Germany, Japan, and the United Kingdom. Clients include Mercedes, Unilever, and McDonald's. With sister agencies Starcom MediaVest, ZenithOptimedia, Denuo and Digitas, Razorfish is part of Publicis Groupe's (Euronext Paris: FR0000130577) VivaKi, a global digital knowledge and resource center. Visit http://www.razorfish.com for more information. Follow Razorfish on Twitter at @razorfish.
# # #