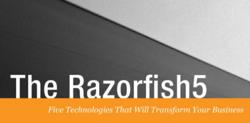 Our report offers businesses a comprehensive guide to the technologies they will need to understand and implement in order to satisfy consumers' ever-evolving expectations.
New York, NY (Vocus/PRWEB) April 13, 2011
As technology develops at a rate faster than ever before in human history, it has become imperative, and yet seemingly impossible, for businesses to keep pace. To help businesses navigate, Razorfish today released a report, Razorfish 5: Five Technologies That Will Transform Your Business, which explains how companies can leverage these crucial technologies to achieve their business and marketing goals.
"In today's new digital reality, businesses need to continually innovate and adopt new technologies," said Ray Velez, Chief Technology Officer at Razorfish. "Our report offers businesses a comprehensive guide to the technologies they will need to understand and implement in order to satisfy consumers' ever-evolving expectations, and stay competitive in the marketplace."
Razorfish 5 delivers insight into each technology, explaining why it will become so crucial this year, and provides a holistic approach for leveraging each technology to achieve key business and marketing objectives. The technologies highlighted include:

Near Field Communication – NFC, wireless technology that facilitates mobile payments, has been available for years, but will hit its tipping point in 2011 with Android and potentially Apple building the technology into their devices. It will usher in a whole new era of utilization for personal devices including payment, couponing and location-based information from merchants.
Interface Changes – Consumers are purchasing devices with touch or motion interfaces, such as tablets and gaming consoles, in record numbers. Smart companies will take advantage of this interface revolution to unlock new possibilities to interact with consumers and potential consumers in different and more personalized ways.
Open Digital Services(SM) – There is enormous opportunity for companies to drive innovation by empowering consumers to interact with the brand through open APIs. It opens up endless possibilities, and is the most efficient and effective way for businesses to keep pace with evolving models and technologies.
Marketing in the Age of Big Data – Companies are drowning in consumer data, but most don't have the time or technology to turn that information into actionable insight. However, with new cloud-based tools and techniques, businesses can finally translate those trillion rows of data into a better and more targeted conversation with consumers.
Cloud Technology Architecture – Cloud technology, which businesses have widely adopted over the past few years, employs new architecture that functions like software instead of the fragile, physical systems of the past. Companies who employ this technology will be able focus on driving the business at a faster rate, instead of maintaining or scaling the infrastructure.
"The Razorfish 5 will serve as an invaluable resource to the technology-minded CMO and the marketing-minded CTO," said Bob Lord, CEO of Razorfish. "Our technology team is second to none in the advertising industry; their leadership and expertise is why Razorfish has provided comprehensive marketing and technology solutions that reach consumers in unique and innovative ways.
The full report can be viewed at http://www.razorfish5.com. For further discussion, follow Ray Velez on Twitter, @rvelez.
About Razorfish
Razorfish creates experiences that build businesses. As one of the largest interactive marketing and technology companies in the world, Razorfish helps its clients build better brands by delivering business results through customer experiences. Razorfish combines the best thought leadership of the consulting world with the leading capabilities of the marketing services industry to support our clients' business needs, such as launching new products, repositioning a brand or participating in the social world. With a demonstrated commitment to innovation, Razorfish continues to cultivate our expertise in Social Influence Marketing, emerging media, creative design, analytics, technology and user experience. Razorfish has offices in markets across the United States, and in Australia, Brazil, China, France, Germany, Japan, Spain, Singapore and the United Kingdom. Clients include Carnival Cruise Lines, MillerCoors, Levi Strauss & Co., McDonald's and Starwood Hotels. With sister agencies Starcom MediaVest, ZenithOptimedia, Denuo and Digitas, Razorfish is part of Publicis Groupe's (Euronext Paris: FR0000130577) VivaKi, a global digital knowledge and resource center. Visit http://www.razorfish.com for more information. Follow Razorfish on Twitter at @razorfish.
###