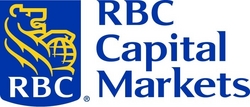 RBC Capital Markets' investment banking business is strengthened by the Royal Bank of Canada's size and stability: RBC is the 12th largest bank in the world, and one of only two banks with an Aaa rating (from Moody's) among the 50 largest banks globally
New York, NY (PRWEB) January 30, 2009
RBC Capital Markets today announced that its U.S. investment banking group has been named Mid-Market Investment Bank of the Year by Investment Dealers' Digest (IDD), a leading journal of the investment banking industry.
"We're deeply honored to be recognized by IDD as 'Mid-Market Investment Bank of the Year,' one of the investment banking industry's most respected awards," said Peter de Vos, RBC Capital Markets' Head of U.S. Investment Banking. "As the largest and one of the only investment banks with full-product capability primarily focused on the U.S. middle market, RBC has been uniquely positioned to provide services that are relevant to our clients in all market environments. That breadth of capability has helped us to serve our clients year after year, even in the most challenging markets."
RBC launched its current U.S. investment banking plan in 2002, and offers a complete line of products and capabilities to corporate, institutional and government clients. The firm has a focused expertise in sectors such as Communications, Media & Entertainment, Consumer, Financial Institutions, Energy, Healthcare, Industrial & Diversified Services, Real Estate, and Technology. RBC's range of product capabilities includes M&A, private placements, leveraged finance, financial sponsors, convertibles, high yield, and equity capital markets, among others.
"RBC Capital Markets' investment banking business is strengthened by the Royal Bank of Canada's size and stability: RBC is the 12th largest bank in the world, and one of only two banks with an Aaa rating (from Moody's) among the 50 largest banks globally," said Doug Guzman, RBC Capital Markets' Head of Global Investment Banking. "This has allowed us to continue to grow our U.S. business in a measured fashion. In 2008, we were able to gain market share across product areas, add new clients and continue to selectively recruit and grow our U.S. investment banking and capital markets platforms."
Last year, RBC's U.S. investment bank acquired Richardson Barr & Co., a leading energy advisory firm. In 2007, the firm acquired Daniels & Associates, the nation's most active M&A advisor to the cable, telecom and broadcast industries.
About RBC Capital Markets
RBC Capital Markets is the corporate and investment banking arm of RBC and is active globally in debt origination, sales and trading, foreign exchange, infrastructure finance, structured products, metals and mining, and energy. Its North American platform includes a significant U.S. middle market investment banking franchise and leading equity, underwriting, sales, trading and research businesses. Bloomberg ranks the firm as the 12th largest investment bank globally.
For further information, please contact:
Kevin Foster
RBC
(212) 428-6902
kevin.foster (at) rbccm.com
Loretta Healy
The Hubbell Group
(781) 878-8882
lhealy (at) hubbellgroup.com
###