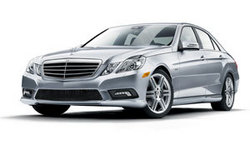 Alpharetta, GA (PRWEB) July 6, 2009
On Saturday, June 13th, RBM of Atlanta-North gave the local community a unique opportunity to experience the 2010 Mercedes-Benz E-Class Sedan and Coupe. The dealership opened its doors for a family event that featured much more than just an exciting new product - there was food, fun, and valuable information for the whole family.
Over 400 people stopped by to check out the 2010 Mercedes-Benz E-Class, which features the latest safety, efficiency and comfort technology from Mercedes-Benz. Groundbreaking safety features perform such functions as monitoring driver alertness, preparing the vehicle to minimize damage in a collision, and automatically adjusting high beam brightness. In addition to the sedan and wagon, the E-Class will be available as a two-door sport coupe for the first time in 15 years.
Not only is the E-Class loaded with innovations and an updated, aerodynamic design; the starting price is also $4,600 lower than for the 2009 E-Class models. For more information, visit Mercedes-Benz USA. The 2010 E-Class preview wasn't the only exciting activity offered by RBM-North. Curtis Lofton, Kory Biermann and Coy Wire of the Atlanta Falcons also came to sign autographs and answer questions. These professional athletes were a big hit with kids - and reminded them that they need to work hard in order to achieve their dreams.
FearThis spoke with teens and parents about professional driver safety courses that include both classroom sessions and practice in one's own car. These courses are taught by police officers trained in vehicle safety and evasive maneuvers RBM-North also offered a free service inspection for all Mercedes-Benz owners, helping to ensure that their vehicles are running in top shape today and in the future. And on top of all this, some of the best barbecue in the South was served by Jim 'n' Nick's Bar-B-Q.
General Manager Randy Powell said, "RBM-North was delighted to be able to give our local community a preview of the exciting new 2010 Mercedes-Benz E-Class. It's the perfect car for anyone looking to combine luxury and value - and I believe there are a lot of consumers these days who fall into that category. We are thrilled at the great turnout for this event, and we really feel that we've become a part of the community. We look forward to many more events like this one, where we can offer something for everyone in the family to enjoy."
About RBM of Atlanta-North
RBM of Atlanta-North is Georgia's newest Mercedes-Benz dealership, built to serve the growing communities of Alpharetta, North Fulton, and Forsyth County. The dealership features an extensive inventory of new and Certified Pre-Owned Mercedes-Benz vehicles, as well as other quality pre-owned brands; a state-of-the-art service facility; and a comfortable waiting area with complimentary refreshments and high-speed Internet access. RBM of Atlanta-North is conveniently located on McFarland Parkway, less than two miles west of GA 400. For more information, visit RBM of Atlanta-North.
# # #