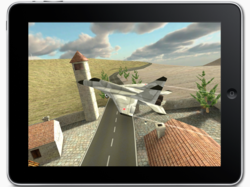 ...includes two stunning environments, six new game modes and seventeen different planes.
Chicago, IL (PRWEB) June 29, 2011
Frozen Pepper, iDev2 and Ethervision have teamed up again to launch RC Plane 2, a ground breaking universal binary iPad and iPhone application that offers the ultimate in radio controlled plane flight simulation paired with exhilarating race and gaming challenges.
"After having our original RC Heli and Plane apps downloaded by over 3 million people and receiving such amazing feedback from our customers, we made it our mission to outdo ourselves with the second generation, " enthuses Ottavio Radicati, creator of RC Plane 2 and Founder of Frozen Pepper. "RC Plane 2 is our most ambitious release to date. In addition to Free Flight and twelve exciting races, it includes two visually stunning environments to fly in - Seaside and Tuscany - as well as six new game modes and seventeen different planes."
RC Plane 2 offers a wide variety of options designed to fit everyone from casual gamers to the most seasoned RC veterans. "Users can choose from a diverse selection of aircrafts, including everything from Cessnas and fighter jets to cargo transport and water planes," says Aaron Basil, Development Chief for Ethervision. "We've also included five training lessons so that pilots can easily learn the basics of RC plane flying from the ground up, or simply sharpen their existing skills." RC Plane 2 also features Game Center achievement and leaderboard integration, as well as an updated control scheme that allows custom rudder control, real time tweaking of any channel in-game and accelerometer support.
"We learned through our first generation of RC applications that it was possible to create a product that appeals to traditional radio control enthusiasts and mainstream gamers alike, and we're thrilled that we've done it again with RC Plane 2," says Randall Cross, President of Ethervision. "We have big plans for this app, and there are even more game modes in development, including multiplayer, that will be available within the next few months. We're really excited about what we have in store for our gamers!" enthuses Cross.
The RC Plane 2 application can be purchased for $.99 on iTunes, and comes complete with four assorted planes (3 CH Cruiser, 3 CH Euro 29 Jet, 4 CH Cruiser and 4 CH Stunt Plane), two full flight environments, twelve different races, five training sessions, Game Center Integration and Free Flight. Also available for in-app purchase are six new game/plane bundles (Cargo, Carrier Ops, Airbus, Bird Catcher, Fire Fighter and Road Runner) and three additional state of the art planes (Spitfire, Euro Fighter and Beach Craft Air Rocker).
###