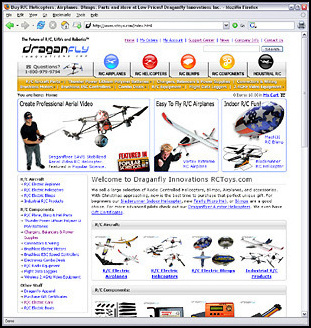 We are excited about the new features, many of which were added in response to customer requests
Saskatoon, Saskatchewan (PRWEB) November 16, 2006 -
Draganfly Innovations, a manufacturer and retailer of radio controlled aircraft announced today the launch of their redesigned on-line store, rctoys.com. The new site makes it easier for customers to find what they want, and features products unavailable elsewhere.
Founded in 1998, Draganfly Innovations started as a mail order business specializing in radio control flying machines. Initially selling basic radio control airplanes and blimps, Draganfly began to design and develop their own aircraft. Draganfly Innovations currently has a staff consisting of 22 full and part time employees, from various backgrounds such as hobby enthusiasts, engineers, designers, combat robotics participants, and customer service specialists. The store specializes in selling RC helicopters, airplanes, indoor helium blimps, Thunder Power lithium polymer rechargeable batteries, brushless electric motors, and RC radio equipment and components. Draganfly Innovations is the manufacturer of a unique line of quad rotor electric helicopters, named Draganflyers. Rather than following the standard helicopter layout of a single horizontal main rotor with a smaller vertical tail rotor, Draganflyer helicopters have one rotor at each of the four corners, and maneuver using differential thrust. The first Draganflyer helicopter was developed in 2000, and has since gone through several revisions. There are five models currently available including the newest aerial video version, the Draganflyer SAVS (Stabilized Aerial Video System).
The redesigned website features a smoother, more up-to-date interface, and focuses on customer needs. Dual top and side-bar navigation allows users to move deeper into specific categories, yet still be able to return to any other page with a minimal number of clicks. Individual products have been given their own image gallery, videos, detailed descriptions, technical information, product reviews, related parts and accessories, and suggested items.
"We are excited about the new features, many of which were added in response to customer requests," says founder Zenon Dragan. "Research into web usability, and extensive user testing played a large role in the redesign". One of these features is a wish list that allows customers to compile and save items they would like into a list that can be made available potential gift givers. Product software and manuals have been gathered together and made available on a new downloads page. The shopping cart system is even able to intelligently suggest other items that may be needed, based on what is currently in the customer's cart.
Other new features include product reviews, coupons, gift certificates, a customer support ticket system, order status tracking, and live chat. "Talking with our customers directly provides a real one on one experience", explains customer service manager Anna Pontikis.
Shopping with Draganfly Innovations is kept safe using advanced encryption methods which ensure that payment and order information is secure. Payment methods accepted include Visa, MasterCard, American Express, PayPal, check, and money order.
About Draganfly Innovations:
Draganfly Innovations has been manufacturing radio controlled helicopters, airplanes, and airships for eight years. From toys to industrial radio control products for police and military, prices range from $29 to $10,000. Draganfly's innovative products have been featured on CNN Headline News, MSNBC, Discovery Channel, and in magazines and newspapers such as Popular Science, Popular Mechanics, GQ, Stuff, Maxim, The New York Times, and The London Times. Draganflyer helicopters are exclusively available from Draganfly Innovations Inc.
Contact:
Zenon Dragan, President
Draganfly Innovations
2108 St. George Ave. Saskatoon, SK. CANADA S7M 0K7
1-306-955-9907
1-800-979-9794
rctoys.com
###