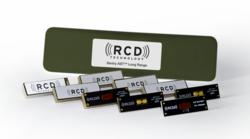 This game-changing technology offers system integrators and end users alike the choice of high performance 'off the shelf' RFID tags or the option to affordably tailor a tag to meet their exact requirements.
Philadelphia, PA (PRWEB) February 15, 2012
RCD Technology announces Sentry AST™, the company's product line of high performance, cost-effective and application-specific RFID tags which are based on a printed circuit board platform. This well-established manufacturing process offers unsurpassed reliability and consistency in read range performance. At the core of the tag is a fiber-reinforced composite material that gives the Sentry AST™ inherent ruggedness. Most important, the innovative, patent-pending tag design allows for fast prototyping and affordable customization essential to the expanding requirements of the RFID industry.
With this release, RCD announces the expansion of its Sentry AST™ product line from five to ten commercially available models: Ultra Slim, Slim, Metal, Worldwide, Multi-Surface, Duo, Autoclave, Extreme, High Temp, and Long Range. The new Sentry AST™models were showcased at the RFID in Defense and Security conference on November 17th, 2011 in Arlington, VA. A brief description of each model is included at the end of this release.
"This game-changing technology offers system integrators and end users alike the choice of high performance 'off the shelf' RFID tags or the option to affordably tailor a tag to meet their exact requirements," stated Ken Horton, CEO, RCD Technology. Horton continues, "We offer a rapid prototyping service that can produce pilot units of a customized RFID tag in as little as two weeks. The versatility of our patent pending tag design and the printed circuit board RFID platform, provides options to our customers that are unique in the industry."
Unlike plastic-wrapped inlays, the RCD antenna is integrated with aerospace-grade materials to ensure that customers receive RFID tags which perform as required for their specified application. This extra measure of confidence and performance is critical, especially in applications where small reductions in error rates or improvements in read reliability can have a triple digit impact on the ROI of the project.
Phil Koppenhofer, Vice President of Sales, adds, "We work with customers who have a specified need and then we match one of our Sentry AST™ platform products to that need. For OEM or similar-scale applications, this platform offers a unique opportunity to integrate our tag technology into their component for seamless, cost-effective design."
About RCD Technology
RCD Technology, headquartered outside of Philadelphia, PA, designs and manufactures RFID tags for diverse asset tracking applications—from rugged environments in the oil and gas industry, to healthcare devices requiring repeated sterilization, to long range vehicle tracking. RCD's Sentry AST line of rigid tags provides unsurpassed reliability and consistency in read range performance and inherent ruggedness. RCD's manufacturing capabilities also include traditional, flexible film-based tags. This dual manufacturing platform gives RCD Technology a broad range of options in designing tags to meet challenging, application-specific requirements cost-effectively. With prototyping and manufacturing located right here in the U.S., RCD's time from concept to delivery is unmatched. For more information, visit our website http://www.rcdtechnology.com.
Sentry AST™ line of Application-Specific Rigid RFID Tags
About the thickness of a quarter, the Sentry AST™ Ultra Slim is the thinnest offering in the Sentry AST product line. It is frequency optimized and features an impressive 2 - 4 foot read range when mounted on metal surfaces. The Ultra Slim has also been proven to perform well in a high tag density environment and is recommended for sample tracking applications.
Sentry AST™ Slim is a small footprint mount-on-metal tag that provides the read range and low profile desired on many IT assets, including laptops, networking equipment, and servers in data centers. At 0.1" thick, it is the thinnest tag available that meets FSTC (Financial Services Technology Consortium) requirements in the U.S. frequency band. The Slim can be ordered tuned for use in other frequency bands.
Sentry AST™ Metal has excellent read range performance-to-size ratio for tracking high value metal assets, such as IT components, steel mill assets, containers or hospital equipment. An inherently durable tag, Sentry AST™ Metal is manufactured using aerospace-grade material and features 12-15' read distances.
Sentry AST™ Worldwide is the first and only global mount-on-metal tag to work in all UHF frequencies (including Japan) and meet the FSTC requirements in a small form factor. It is designed for tracking assets around the world.
Sentry AST™ Multi-Surface has the same footprint and durable construction as the Sentry AST™Metal and Sentry AST™Worldwide. This tag is tuned to exceed FSTC requirements, whether mounted on metal or non-metal surfaces making this an ideal tag to deploy in material diverse environments.
Sentry AST™Duo maximizes performance and versatility in one rugged, compact design. With an average read range of two meters in U.S. or European frequencies, whether mounted on metal, non-metal, or as a hang-tag on equipment, the Duo delivers the most options from a single tag. It is provided with a high performance adhesive and an integrated slot for hanging.
Sentry AST™Autoclave is designed specifically for tracking high value medical, healthcare, laboratory, and veterinary assets or trays of assets through hundreds of autoclave or high temperature cycles. This robust tag provides a 4-6' read distance on metal. It incorporates specific designs that protect the chip-to-antennae bond to withstand autoclave temperature and pressure cycles. When you add an application-specific adhesive and durable label to the design, this tag performs consistently cycle after cycle.
Sentry AST™High Temp leverages both the rugged aerospace grade infrastructure and added IC and bonding protection to achieve performance on metal after many oven cycles up to 450 degrees Fahrenheit. With a 6-10' read distance, it is also the tag of choice in heavy industrial environments, such as steel mills and process industries with demanding operating conditions. The tag can be mounted in a metal cavity and affixed with epoxy for construction assets.
Sentry AST™Extreme is engineered for use in external environments due to its resistance to temperature, moisture, and many chemical sprays. Offering a 6-10' read range on metal, plastic or mounted in free space, this tag for "extreme conditions" is often used to reliably track outdoor assets and in applications in which additional protection of the chip-to-antennae bond is warranted.
Sentry AST™Long Range provides exceptional read distances of 45' in a sleek, compact and durable package. Engineered for use on a wide range of surfaces including metal, wood and most plastics, the Sentry AST™Long Range is designed to withstand the demanding conditions of outdoor and industrial environments. This high durability tag is manufactured from aerospace-grade materials and encapsulated, mounts with a high performance adhesive, epoxy, or rivets, and is smaller than any tag of comparable performance.
###