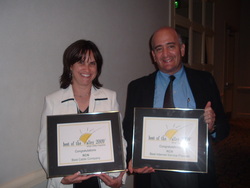 We're extremely proud of our employees who make being the best a priority every day.
Bethlehem, PA (Vocus) July 2, 2009
RCN Corporation (NASDAQ: RCNI), a leading provider of digital and high definition video, high-speed internet, and premium voice services to residential and small-medium business customers, as well as high-capacity transport services to carrier and large enterprise customers, today announced its PA market has once again received "Best of the Valley" awards from votes given by the readers of Lehigh Valley Magazine.
"We are committed to connecting our customers to something more. Whether it's offering the largest selection of movies, HD content, local and free programming choices on RCN Video ON DEMAND or providing the fastest, most reliable high speed internet service in the Lehigh Valley, it is part of our ongoing commitment," said Randy Schwartzman, Senior Director of Sales and Marketing, RCN of Pennsylvania. "It's rewarding when members of the community actually remember that RCN was the first Lehigh Valley cable service provider to offer video ON DEMAND, but it's truly gratifying when you receive the same award year after year. After receiving these awards for the fourth consecutive year, we know we're doing something right."
The "Best of the Valley" awards are given annually and are created and given by Lehigh Valley Magazine. They identify their readers' favorite local companies through a readers' survey that begins early in the year. Recipients of the magazine are invited to cast their vote for the best companies in a number of categories. RCN has been named "Best in the Valley" in the "Best Cable TV Company" and "Best Internet Service Provider" categories.
"Our commitment to superior customer service and outstanding customer satisfaction is extremely important to everyone at RCN, so the acknowledgement that Lehigh Valley Magazine's readers have given us is really appreciated. It was a great feeling accepting the awards again at last night's Best of the Valley banquet," added Schwartzman, who received the awards on behalf of the company. "We're extremely proud of our employees who make being the best a priority every day."
About RCN Corporation
RCN Corporation (NASDAQ: RCNI), http://www.rcn.com, is a competitive broadband services provider delivering all-digital and high definition video, high-speed internet and premium voice services to residential and small-medium business customers under the brand names of RCN and RCN Business Services, respectively. In addition, through its RCN Metro Optical Networks business unit, RCN delivers fiber-based high-capacity data transport services to large commercial customers, primarily large enterprises and carriers, targeting the metropolitan central business districts in the company's geographic markets. RCN's primary service areas include Washington, D.C., Philadelphia, Lehigh Valley (PA), New York City, Boston and Chicago.
About RCN PA
RCN currently serves the following franchised communities of Alburtis, Allen Township, Allentown City, Bangor Borough, Bath Borough, Bethlehem City, Bethlehem Township, Bethlehem Township (Easton), Bushkill Township, Catasauqua Borough, Chapman Borough, Coopersburg, Coplay Borough, East Allen Township, East Bangor Borough, Easton City, Forks Township, Emmaus Borough, Fountain Hill Borough, Freemansburg Borough, Glendon Borough, Hanover Township (Lehigh County) & (Northampton County), Heidelberg Township, Hellertown Borough, Lehigh Township, Lower Macungie Township, Lower Nazareth Township, Lower Saucon Township, Lowhill Township, Macungie Borough, Moore Township, Nazareth Borough, North Catasauqua Borough, North Whitehall Township, Northampton Borough, Palmer Township, Pen Argyl Borough, Plainfield Township, Reiglesville, Roseto Borough, Salisbury Township, Slatington Borough, South Whitehall Township, Stockertown Borough, Tatamy Borough, Upper Macungie Township, Upper Nazareth Township, Upper Saucon Township, Walnutport, Washington Township, West Easton Borough, Whitehall Township, Williams Township, Wilson Borough, Wind Gap Borough. RCN in Philadelphia serves the communities of Folcroft, Ridley Township, Sharon Hill, Eddystone, Norwood, Prospect Park, Collingdale, Colwyn, Glenolden, Ridley Park, Upper Darby, Tinicum, Morton, Rutledge, Millbourne, Darby Borough, Darby Township, Clifton Heights, East Lansdowne, Yeadon, and Lansdowne.
RCN Pennsylvania Media Contact:
Randy Schwartzman, Sr. Director of Sales & Marketing, 610-443-2905
RCN Corporate Media Contact:
Lisa Barder, Sr. Manager, Communications and Public Relations, 703-434-8430
###