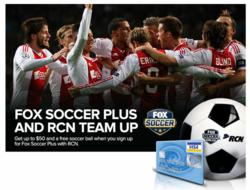 New York, NY (PRWEB) February 19, 2013
To celebrate the world's most popular sport, RCN New York and FOX Soccer Plus are excited to announce a special offer for customers, running from February 16th through March 16th. New or current RCN customers who choose to subscribe to FOX Soccer Plus will receive a Visa Gift Card and a free custom soccer ball. This offer is only available by visiting http://www.rcn.com/foxsoccerplus.
"At RCN, we always put our customers first in everything we do," said Bruce Abbott, General Manager of RCN New York. "Frequent special promotions and incentives like this one allow us to add value to our already competitive offers, and show our appreciation for our customers. We are very excited to be teaming up with Fox Soccer Plus for this campaign."
Customers have two ways to receive his or her gift:

Sign up for Fox Soccer Plus with RCN and get a $25 Visa Gift card and free soccer ball
Sign up for Fox Soccer Plus and one International channel with RCN and get a $50 Visa Gift Card and free soccer ball
Those who take advantage of this promotion will also benefit from the best soccer and rugby games from around the world, including the UEFA Champions League, Barclays Premier League, UEFA Europa League, Aviva Premiership, Heineken Cup, Stobart Super League, and so much more. Not to mention RCN's outstanding Signature Digital TV line-up including FOX Soccer Channel HD and one of the city's fastest Internet services.
New York City residents should visit http://www.rcn.com/foxsoccerplus for this very limited, special offer.
## ## ##
About RCN: RCN Telecom Services, LLC (http://www.rcn.com) provides industry-leading High-Speed Internet, all-Digital TV and Phone services for residential, small/medium and Enterprise business customers. RCN's affordably-priced advanced digital services are delivered through their proprietary, state-of-the-art fiber-rich network and supported by 100% U.S.-based customer service. RCN's primary service areas include Washington, D.C., Philadelphia, Lehigh Valley (PA), New York City, Boston and Chicago.
About Fox Soccer Plus: FOX Soccer Plus is a premium network providing the hard core fan with international and domestic high-level sports competitions in HD. In addition to live, exclusive soccer matches from the UEFA Champions League, Barclays Premier League, Scottish Premier League and Europa League, FOX Soccer Plus delivers premium rugby union from the RaboDirect PRO 12 League, Aviva Premiership and Heineken Cup, among other competitions. Additionally, FOX Soccer Plus carries the world's top rugby league competitions, including Australia's National Rugby League and State of Origin Series, along with Europe's Stobart Super League and Carnegie Challenge Cup. FOX Soccer Plus is also home to rugby league's World Club Challenge and the Australian Football League. For more information, visit FOXSoccerPlus.com.