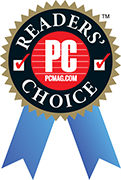 With millions invested in our infrastructure, the re-launch of our brand, our commitment to putting customers first and our ability to provide the best customer experience, RCN is excited and honored to receive this award from PC Magazine readers
Princeton, NJ (PRWEB) May 29, 2013
PC Magazine recently released its annual Readers' Choice Awards and named RCN one of the winners for best cable broadband ISPs in 2013.
RCN led the way by having the highest satisfaction rating for reliability (8.2). RCN also had the second-highest satisfaction rating for speed (7.8) and tied for the highest overall satisfaction rating (7.9) among cable-based ISPs.
"With millions invested in our infrastructure, the re-launch of our brand, our commitment to putting customers first and our ability to provide the best customer experience, RCN is excited and honored to receive this award from PC Magazine readers," said Chris Fenger, Chief Operating Officer at RCN. "We focus on each and every customer transaction and work consistently to provide a platform that offers the fastest Internet speeds at the best value. Customers have a viable choice with RCN."
RCN's advanced network delivers Internet speeds of 75mpbs, a superior TiVo experience, personalized video options and so much more – all accompanied by the very best customer service. PC Magazine is the largest professional reviewer of consumer electronics and tech products worldwide and this award is a testament to the excellence that RCN's employees bring to each and every customer they serve.
About RCN: RCN Telecom Services, LLC (http://www.rcn.com) provides industry-leading High-Speed Internet, all-Digital TV and Phone services for residential, small/medium and Enterprise business customers. RCN's affordably-priced advanced digital services are delivered through their proprietary, state-of-the-art fiber-rich network and supported by 100% U.S.-based customer service. RCN's primary service areas include Washington, D.C., Philadelphia, Lehigh Valley (PA), New York City, Boston and Chicago.