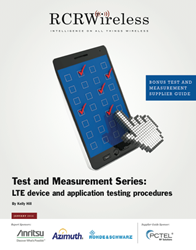 Operators rely on testing to avoid or reduce returned devices and unhappy customers who may churn because a device doesn't perform to their expectations. - RCR Wireless News Technology Reporter Kelly Hill
Austin, Texas (PRWEB) February 06, 2014
The emerging device testing trends of LTE carrier aggregation and LTE-Advanced were identified by industry experts during the RCR Wireless News' LTE Device and Application Testing Procedures program. Key takeaways include the pre-launch stages of device testing prior to a successful launch; drivers of increased testing as well as the market forces which limit device assessment; and lessons learned that have impacted testing as it stands today.
Download this report to learn:

Stages of device testing and certification
The impact of Voice over LTE and carrier aggregation on testing
Conflicting market forces that shape testing rigor and timelines
Emerging trends: New approaches to application testing
Carrier aggregation testing best practices
Bonus: Includes a Test & Measurement Industry Supplier Guide
Watch the complimentary editorial webinar featuring:

Kelly Hill, Technology Reporter, RCR Wireless News
Cher Rowland Henton, Field Applications Engineer, Anritsu
Amit Malhotra, Vice President of Marketing and Product management, Azimuth Systems
Bryan Helmick, Product Manager, Anritsu
Operators and original equipment manufacturers face a delicate balancing act between rigor and time-to-market – because while a faulty device can be an expensive mistake, a delay in getting the newest device into the market means conceding advantage – and profit – to rivals. This report explores LTE device testing with a focus on conformance, certification and carrier acceptance testing; trends and challenges influencing testing today; and what lies on the road ahead in LTE Advanced (LTE-A).
"Operators rely on testing to avoid or reduce returned devices and unhappy customers who may churn because a device doesn't perform to their expectations," said RCR Wireless News Technology Reporter Kelly Hill. "At the same time, they're facing incredible pressure on time-to-market for advanced devices, and they need better assessment of how applications are going to perform for their networks and their customers."
Other key trends identified in the report include the work being done to support testing for carrier aggregation, and a look at independent benchmarking for touchscreens, and the impact that Voice over LTE and other new services will have on testing as they move from OTT to being part of carrier networks.
"VoLTE, RCS and WebRTC – these types of technologies are a great impetus for carriers that they can't ignore this functionality," said Josh Matthews, CEO of app testing company Apkudo. "It's an incredibly critical part of the ecosystem, and they need to start worrying about how these functionalities affect the user experience."
Click here to download the report.
About RCR Wireless News
Since 1982, RCR Wireless News has been providing wireless and mobile industry news, insights, and analysis to industry and enterprise professionals, decision makers, policy makers, analysts and investors. Our mission is to connect, globally and locally, mobile technology professionals and companies online, in person, and now on video. Our dedication to editorial excellence coupled with one of the industry's most comprehensive industry databases and digital networks leads readers and advertisers to consistently choose RCR Wireless News over other industry publications. http://www.rcrwireless.com