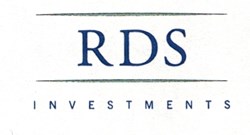 Los Angeles, CA (PRWEB) August 25, 2013
RDS Investments is a private real estate firm located in Beverly Hills, CA. Led by its founder, Robert D. Shipp, RDS Investments has acquired several million square feet of commercial and industrial properties throughout California and Nevada.
Fidelity Investments has just signed a new 10-year lease in Pasadena, CA and Frito Lay, a business unit of PepsiCo just signed a 5-year extension for a distribution center in Lancaster, CA.
RDS Investments also had two major stores sign in the South Virginia Commons Shopping Center located in Reno, NV: Eyemart Express, the 7th largest optical retailer in the US with over 141 locations in 33 states and David's Bridal, the fastest growing bridal retailer in the world with over 300 stores.
TP Link USA is moving to its new U.S. headquarters located in San Dimas, CA, having signed a lease in a 52,000 sq. ft. building. In addition to leasing, RDS Investments and its partners recently sold their built-to-suit buildings located in El Centro, CA & Reno, NV.
About RDS Investments and Development
Robbie Shipp is the founder and Chairman of RDS Investments, an active development and property management company dedicated to the development of industrial and commercial real estate since 2000. In May 2013, RDS Investments expanded its offices by moving to 9701 Wilshire Blvd, Suite 1110 in Beverly Hills, CA.
About NALA™
The NALA (National Association of Local Advertisers), a small business association, is for local business owners offering new online advertising & small business marketing tools, great business benefits, education and money-saving programs, as well as a charity program.
PR Contact:
news(at)thenala(dot)com
805.650.6121, ext. 361
###