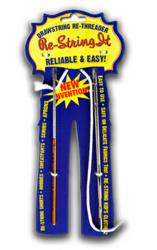 I give customers a life-time guarantee because the product is perfect. Its anodized aluminum material means it won't rust and the flexible body and rigid front guarantee easily and safe travel through any channel
Los Angeles, CA (PRWEB) August 21, 2012
As millions of kids across America go shopping for back to school supplies, Re-String It should be a must-have item on their list, according to CWA Enterprises, maker of the re-threading tool. The Chicago Tribune quoted a report from the National Retail Federation that the average family with children entering kindergarten through 12th grade will spend an average of $689 on back to school supplies -- $264 of that will be on clothes, like t-shirts, jeans, and possibly sweatpants and hoodies. To prevent wasting money on replacing sweatpants and hoodies when the drawstrings fall out, families can spend less than $20 on a Re-String It, saving them from having to replace those items of clothing.
Re-threading sweatpants and hoodies is a time-consuming and annoying problem, especially when kids' fall schedules are busy with school, athletics, studying and spending time with friends and family. Re-String It is a universal drawstring re-threader designed to quickly and easily re-thread anything with a string. The adjustable loop allows for any thread type from flat threads to round threads. The edges on the loop are rounded which will allow for any thread composition to be used from silk to cotton and the clothing won't get frayed.
Inventor of the Re-String It, Chad Archibeck, knows these product details are important. "I give customers a life-time guarantee because the product is perfect. Its anodized aluminum material means it won't rust and the flexible body and rigid front guarantee easily and safe travel through any channel."
Re-String It is available for purchase on Amazon.com, which has other great back to school supplies like JanSport backpacks, Avery Binders, as well as Sharpie highlighters and No. 2 pencils. These types of items are among the top 13 most common school supplies, which cost an average of $31 if purchased in-store, according to the recently published National Retail Federation report.
About the Company:
Re-String It is a product of CWA Enterprises, which was created to bring the perfect must-have domestic tool to market. Re-String It is a heavy duty, versatile re-stringer that is easy to use and won't damage clothing. The rounded edge on the adjustable loop enables use on delicate materials. Visit http://www.re-stringit.com for more information.