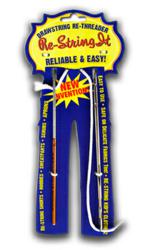 Los Angeles, CA (PRWEB) August 28, 2012
Re-String It, which solves the annoying, time consuming problem of drawstrings coming out of hoodies and pants, should be among the top 10 dorm room essentials for 2012 according CWA Enterprises, maker of the universal re-threading tool. According to a recent survey report from the National Retail Federation, the average amount of money spent on back to college items this year will be around $900. The report also states that fewer "college-aged children will live at home this year," which means their mothers won't be around to re-thread their sweatpants, hoodies or pajamas.
Re-String It is a universal drawstring re-threader designed to quickly and easily re-thread anything with a string. The adjustable loop allows for any thread type from flat threads to round threads. The edges on the loop are rounded which will allow for any thread composition to be used from silk to cotton and the clothing won't get frayed.
Living away from home for the first time creates a must-have list of essentials. Inspired by the NRF report, CWA Enterprises has come up with its own list for this year's top 10 dorm room essentials:
1. Multi-purpose Furniture
In the spirit of multi-functional items like Re-String It, find a storage basket that can double as a table, or a table lamp that comes with an organizational tray.
2. Re-String It
According to the NRF report, about $75.73 will go towards buying collegiate branded gear like sweatpants and hoodies. When the drawstring comes out in the wash, students will need a Re-String It tool to re-thread the drawstring back into their pants.
3. Linens/Towels
Hint: the more of these students have on hand, the less frequently they'll need to do their laundry. It's just a suggestion, but buying more linens can save time later.
4. Personal care/hygiene Items
While it might sound obvious, college students are used to having certain items around the house and might forget to add them to their own shopping list.
5. Academic Supplies
Rulers and calculators might sounds like supplies from high school, but they will come in handy when least expected.
6. New Shoes
The NRF report mentions that 71 percent, "the highest in the survey's history, will buy new shoes, spending an average of $75.81."
7. Mobile Electronics
Students who have not yet purchased a Kindle, iPhone, or tablet should probably do so before entering their dorm room, where mobile devices are bound to be incredibly useful.
8. Laundry Basket
It's that hamper-looking thing that used to sit in the corner of the room at home where clothes went and came back clean. Now it's not going to happen magically any more. Students should get a package deal on laundry baskets and detergent.
9. Alarm Clock
Students might be tempted to use their phone as their alarm clock, but depending solely on a battery powered item could be a mistake. It never hurts to have a back-up plan. This item is also on Real Simple Magazine's list of top dorm room essentials.
10. Reusable Water Bottle
Assuming that most college students will be constantly on the go, having a bottle they can refill will come in handy. Some even come with a filter that cleans the water as the bottle is filled.
About the Company:
Re-String It is a product of CWA Enterprises, which was created to bring the perfect must-have domestic tool to market. Re-String It is a heavy duty, versatile re-stringer that is easy to use and won't damage clothing. The rounded edge on the adjustable loop enables use on delicate materials. Visit http://www.re-stringit.com for more information.